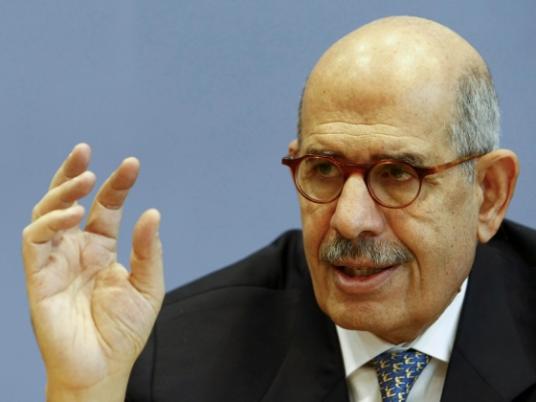 Days before mass protests on 30 June, intended by the opposition to show a lack of confidence in President Mohamed Morsy, Dostour Party head Mohamed ElBaradei has called on Morsy to respond to the outcry of citizens and resign from his post.
"We hope to have a regime that starts with a new constitution and that achieves equality," he said, "and to have a regime that makes a new electoral law to ensure the participation of all political forces."
While attending Saturday a conference held by the National Salvation Front entitled "after the departure…after Mohamed Morsy" on the political aftermath of the 30 June protests, ElBaradei stated that "most of the Egyptian people are asking 'what is the alternative?' Answering this question is the objective of today's conference, as the regime has failed to properly manage the country."
ElBaradei accused the regime of "focusing on dividing the Egyptian public on the basis of religion, as Muslims, infidels, new infidels, and Christians, which has led to the collapse of the economy and the lack of security."
The opposition leader said that after Morsy leaves office, no Egyptian shall be isolated, whether he or she adheres to political Islam or are supporters of the former regime. All shall enjoy freedom of opinion and nobody shall impose power over another person.
ElBaradei addressed the Tamarod campaign "that represents Egypt's masses after the revolution was stolen from its rightful owners," stressing that what people intend to do on 30 June is to correct the course of the revolution in a peaceful and popular way.