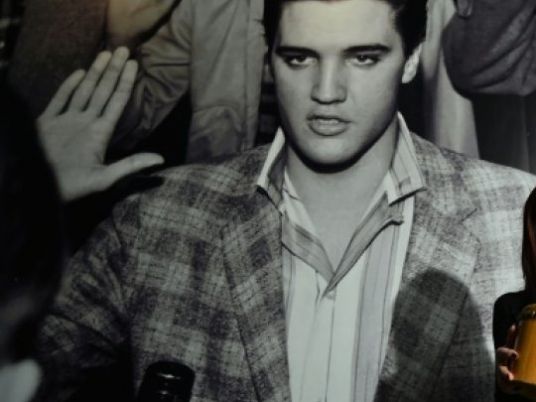 Elvis Presley went straight back to the top of the UK album charts on Friday with a collection that backs the king of rock and roll's voice with Britain's Royal Philharmonic Orchestra.
"If I Can Dream" gave the late US legend his 12th chart-topper in Britain, meaning he now has more UK number one albums than any other male solo artist.
It puts him level with Madonna in second place for the most UK number one albums overall, The Beatles having notched up 15, the Official Charts Company said.
Made at London's famous Abbey Road Studios, "If I Can Dream" mixes hits with lesser-known tracks also deemed ripe for a string arrangement backing.
The 14 songs are drawn from throughout his career, which spanned from the early 1950s to his death in 1977 aged 42.
His ex-wife Priscilla Presley said the album gave his songs the sort of huge backing he always wanted in studio recordings but only got during his 1970s Las Vegas concerts.
"This is an album that Elvis always really wanted to do and he would have been so pleased to know his fans are still there and they continue to love his music," she said.
"The most talented team put this album together and helped us all realize an unfulfilled dream."
The album includes "It's Now Or Never", "You've Lost That Loving Feeling", "Bridge Over Troubled Water", "Can't Help Falling In Love", "In The Ghetto", "How Great Thou Art" and "An American Trilogy".
"Fever" is reformulated as a duet with Canadian crooner Michael Buble.
The album shifted 79,000 copies in its first week on release, taking it to number one.
It is the second-fastest selling album of the year in Britain behind "Chasing Yesterday" by former Oasis guitarist Noel Gallagher's High Flying Birds.
Presley first topped the British album charts this week 59 years ago with "Elvis Presley Rock n' Roll".
He is now the first solo artist to ever have a UK number one album in five different decades.
It is his third UK number one album since his death, all three coming since 2002