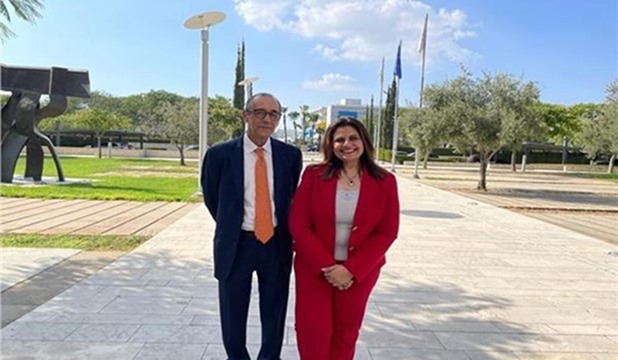 Minister of State for Emigration and Egyptian Expatriates' Affairs Soha Gendi discussed with Cypriot Presidential Commissioner for Diaspora and Repatriates Marios Lysiotis the launch of the fifth edition of "Reviving Roots" initiative, upon a request by the government of Cyprus.
This came during a meeting with the Cypriot commissioner on the sideline of the minister's current visit to Cyprus.
Gendi described the relations between the two peoples as time-honored and deeply rooted. She invited Lysiotis to visit Egypt in light of maintaining the implementation of the "Reviving Roots" initiative, which was launched by President Abdel Fattah El Sisi in 2017.
The minister asserted Egypt's keenness on achieving rapprochement between peoples as a cosmopolitan country that has welcomed different cultures and civilizations, topped by the Hellenistic civilization, creating a distinct fabric that was reflected in the three civilizations of Egypt, Cyprus and Greece.
Meanwhile, the Cypriot official called for developing joint programs for youth and expats from Egypt, Greece and Cyprus, with the aim of reviving shared roots, history and culture.