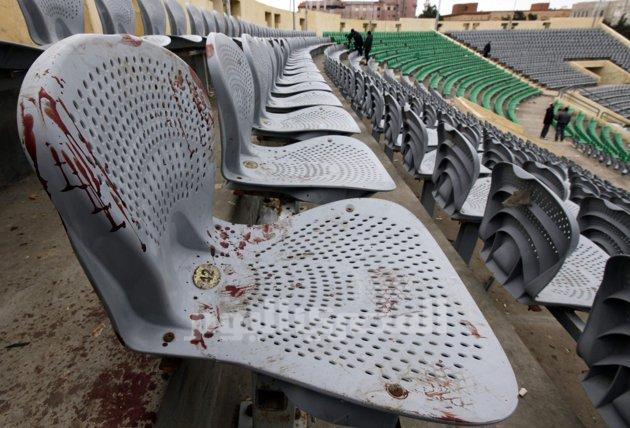 A forensic team has found empty bullet casings in the seats in which fans of the Cairo-based Ahly football club sat in Port Said Stadium on Wednesday night, when 74 were killed and hundreds injured in riots following a football match.
The team responsible for examining the stadium, which consisted of 16 attorneys from the public prosecution, also found abandoned shoes and traces of blood, the state-run Al-Ahram Al-Masaey, a nightly newspaper, reported Friday.
The team found remnants of fireworks in the seats of the local team, Masry, and that some of the emergency doors leading into the stadium had been opened by force.
The inspection determined that the majority of victims died due to overcrowding when the crowd scrambled to reach the Ahly fans' exit gate, the newspaper quoted the public prosecutor as saying. The team also found blank shells, according to the report.
The exit doors for Ahly fans were closed when the chaos erupted, the inspection found. Team General Director Major General Magdy Sheta told the public prosecutor that stadium doors are usually shut after visiting fans arrive to prevent thugs from entering and attacking fans.
The prosecutors were surprised to find that a stadium janitor had already washed the floor and walls of the Ahly club's visiting locker room, removing any potential traces of blood. The public prosecutor said the janitor is being investigated and warned the stadium director to not clean the stadium any more until the criminal and forensic teams conclude their work.