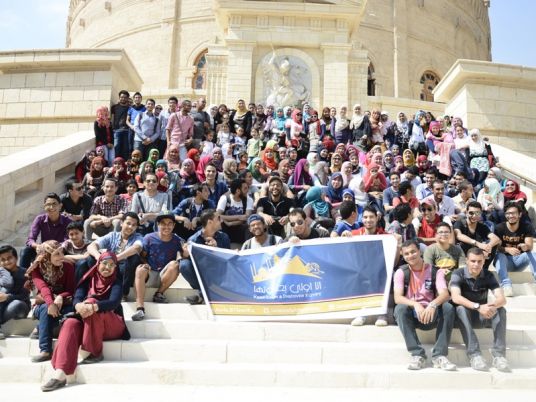 The Head of Religious Affairs in the Ministry of Endowments, Gaber Tayae, defended actress Shereen Reda's criticism of some voices of muadhins (callers to prayer), which she likened to "animal sounds", saying: "It is not possible that she means to attack religion. What she said was out of jealousy for the sake of Islam."
Reda sparked debate on Friday when she said some muadhins' voices sound like animal sounds, and that "their voices scare children." She also called for the "unification of the adhan in mosques to not scare tourists away."
Reda's statements caused outrage and people took to social media to express it. The video of her comments was widely shared and people demanded that the responsible party issue an investigation
In his response, Tayae, spoke in a phone interview with the '90 Dakeeka' (90 Minutes) program on the Mehwar (Access) channel on Tuesday evening. He also said, "microphones have to be used in Mosques for the Adhan (call to prayer), not just for leading prayers."
Tayae went on to say that "obedience to God isn't [done] by calling people to prayer through a voice they resent. Islam is a commodity therefore it is important that it is represented through the best image and the sweetest voice."
As for speeches, Tayae believes "microphones should only be used in the Friday speech."
On a different note, Tayae explained that the endowments minister has implemented conditions for building mosques and prayer corners. These include that a mosque and a prayer corner should be at least 500 meters apart. He revealed that the ministry has already shut down 20 thousand prayer corners all over the country for being too close to grand mosques.
Tayae added that "[praying] corners will not be allowed to perform the adhan. The nearby mosques' voices should be enough to avoid noise."
Moreover, "if we get complaints that mosques were abusing the microphone and using it during normal prayers, an investigation will be issued with the imam."
As for unifying the adhan he said, "The decision to unify the adhan at the time of Minister Mahmoud Hamdy Zakzouk was a good one, and led to peace for a while but after the revolution some of the receivers for the adhan got stolen."
Tayae concluded, "adhan is a Sunna. It serves as an announcement that prayer time has begun. This is achieved has soon as adhan is heard." He finished by saying that the prophet himself always chose the "sweetest voice" to perform adhan.
This is not the first time the issue of the unification of the adhan has been discussed. In 2010, the Minister of Endowments Mahmoud Zakzouk announced he would be unifying adhans beginning from Ramadan.
However, his decision was contested by the religious affairs committee in parliament, who refused to follow through with it, saying that unifying the adhan by choosing the best voices is a disruption of one of God's commands, as the prophet urged Muslims to race to do it.