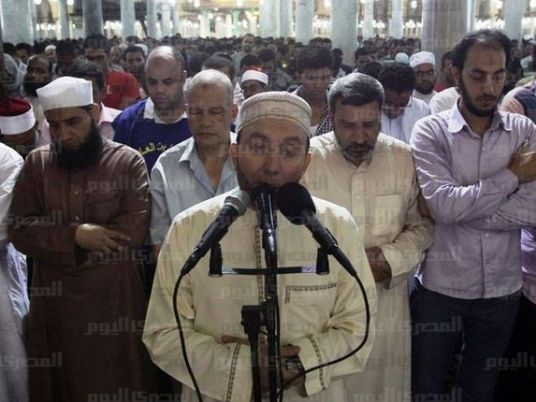 The Ministry of Religious Endowments has announced it had received warnings from security authorities about alleged attempts to poison people in mosques. The attempts would reportedly be targeted at those who spend the night in mosques during the holy fasting month of Ramadan, which began on Thursday.
Mohamed Abdel Razeq, head of the religious department at the Ministry of Endowments, said the ministry had received security information that "extremist elements" were plotting to spark a political crisis by poisoning the "i'tikaf" meals.
I'tikaf is a voluntary ritual performed during Ramadan, when Muslims stay for a few consecutive days at mosques for prayer and Quran readings.
Due to the threats, all meals would be banned from the mosques during i'tikaf, except for those delivered by restaurants which are trusted by the congregation and authorized by the ministry, according to Abdel Razeq.
Those who do not belong to the area where the mosque is located should not be allowed to perform i'tikaf, and violators would be referred to the police, Abdel Razeq added, stressing that IDs would be collected from people eager to perform i'tikaf.
Social media reports have said the ministry was seeking to employ "observers" to watch the congregations during prayers, or even to ban i'tikaf altogether.
Abdel Razeq dismissed the rumors, but confirmed measures were being taken to watch over the rituals.
"It is totally untrue that the ministry would appoint observers for prayers", Abdel Razeq said. "The Ministry had formed a panel to observe mosques preparing for Ramadan, but no mosque shall be closed", he added .
The official revealed that "strict measures" would be applied to prevent imams who are not from al-Azhar from leading prayers or giving sermons.
Edited translation from Al-Masry Al-Youm