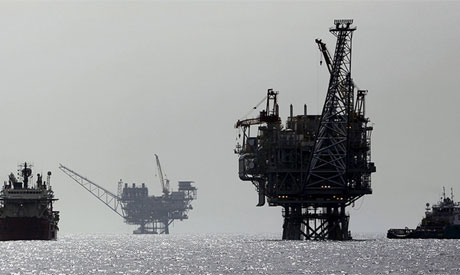 Italian drilling company Eni revealed the discovery of a second oil well in Egypt's Western Desert, according to press release on Monday.
The company explained that the well is located in the South West Meleiha license, 130 km away from the Suwa oasis. This is the second well drilled by Eni to in an attempt to highlight the potential of the geological sequences in the Faghur Basin.
"SWM B1-X has been drilled 7 kilometers away from the first discovery (SWM A2-X), to a total depth of 4,523 meters, where it encountered 35 meters net of light oil in the Paleozoic sandstones of Dessouky Formation of the Carboniferous age and in the Alam al-Bueib sandstones from the Cretaceous era," the release stated.
The statement also revealed that Eni has entered the production phase, producing 5,130 barrels of oil per day (BOPD) of light oil (37° API). The produced gas will be delivered to Hamra Terminal through existing pipelines.
Eni is an Italian multinational gas company. Labeled as a global super-major, the company operates 79 countries. Eni began operating in Egypt in 1954. In 2015, the company discovered Zohr gas field, an offshore natural gas field located in the Egyptian sector of the Mediterranean Sea.
The field production reached 17 percent since its operation, increasing from 350 million cubic feet of gas to 400 million cubic feet of gas per day, according to a statement by Minister of Petroleum Mineral Resources Tarek al-Molla. The field is estimated to produce 30 trillion cubic feet, when all its phases are completed.
Eni then announced the discovery of Noor gas field in North Sinai. Noor has been estimated as three times the size of Zohr. In June, the Ministry of Oil announced that the Noor field reserves are expected to reach over 90 trillion cubic feet, ranking as one of the largest gas fields in the world.