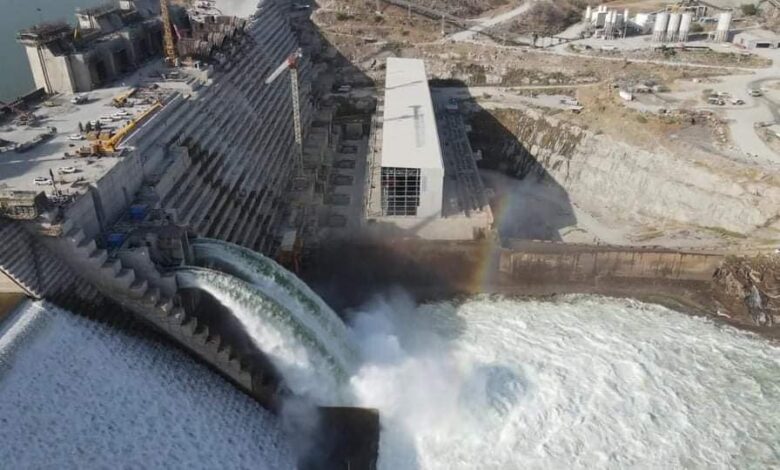 Ethiopian Prime Minister Abiy Ahmed on Monday affirmed his government's desire to complete the construction of the Grand Ethiopian Renaissance Dam.
In a speech delivered during his inauguration ceremony to assume the position of prime minister for a second term, Ahmed said that the Grand Renaissance Dam will play a crucial role in regional integration and in strengthening relations for Ethiopia in addition to the multiple social and economic benefits.
"The (Blue Nile) River is of great importance to us, the Ethiopians, not to mention its economic benefits. The (Blue Nile) is a symbol of our rise and a manifestation of our ability to advance ourselves," he said.
"All Ethiopians are committed to completing the dam by contributing from their small income," Ahmed continued.
The construction and operation of the dam will be completed successfully, he assured, pointing out that Ethiopia is always ready to follow a mutually beneficial approach with neighboring countries and seeks to promote regional integration.
Ahmed was sworn in to continue as Ethiopian Prime Minister for a second five-year term on Monday.
Egypt, Sudan and Ethiopia have been negotiating for ten years without any success on resolving the issue of the Ethiopian Renaissance Dam, which costs five billion dollar and would become the largest source of hydroelectric power in Africa with a capacity of 6,500 megawatts after completion.
Tensions have escalated in the past months after Addis Ababa began operating the dam without reaching an agreement with Egypt and Sudan.
Ethiopia pins its hopes of development and power generation on the Renaissance Dam, which Egypt fears will affect its water supply while Sudan is concerned with the flow of water to its dams.
Egypt and Sudan say they want a legally binding agreement, while Ethiopia says any pact should be advisory.
The downstream nations fear possible blows to water facilities, agricultural land, and overall availability of Nile water.
They presented the GERD issue at a UN Security Council hearing in July in hopes of bringing more international players into the negotiation process.
Following the hearing, the Security Council issued a statement encouraging the three countries to resume negotiations under the auspices of the African Union, and to reach an agreement within a set amount of time.
It also warned each country against unilateral measures.