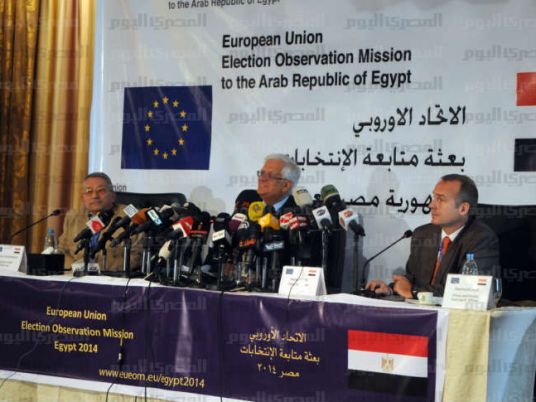 Mario David, member of the European Parliament and head of the EU mission supervising the presidential elections, said that the Egyptian authorities custom-cleared all the equipment the mission needs to supervise the elections that are slated for 26 and 27 May.
He said at a press conference on Monday that the European Union went back on its decision to limit supervision to Cairo and decided to send teams to all polling stations nationwide, adding that the mission will not interfere in the process.
He said the mission will announce its preliminary findings in a press conference two days after the elections, to be followed later by a comprehensive report of final recommendations to be submitted to the authorities to take into consideration.
In response to a question about the nature of the equipment, David said it includes communication and medical devices that were used in 100 other countries before and that are not banned in any way.
He said the equipment had been held with the Egyptian authorities since 18 April. "Perhaps the delay in releasing it was due to some red tape procedures," he said.
He also said that he met with presidential candidates Abdel Fattah al-Sisi and Hamdeen Sabbahi to ask them if they had any problems with their campaigns.
He explained that the mission will assess the legal framework of the elections, the performance of the entrusted management and other state institutions, the respect for fundamental freedoms and civil and political rights, the performance of the media, the election campaigns, the role of civil society organizations, the voting process, counting as well as complaints and appeals.
On the follow-up of Egyptians voting abroad, David said the EU could not send observers to oversee the voting process there.
He said the mission was not invited to supervise the parliamentary elections, but would welcome to do so.
He also said that the mission did not contact the political forces that are boycotting the elections. "We are here to oversee the process with all neutrality," he said.
Edited translation from Al-Masry Al-Youm