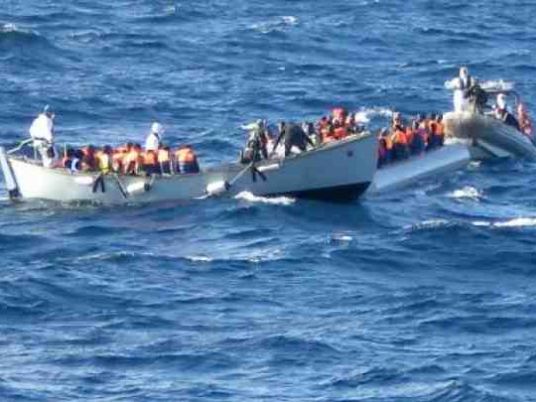 EU foreign ministers met on Monday under pressure to produce more than words to save migrants drowning in the Mediterranean, as the first bodies were brought on shore of hundreds feared killed in a shipwreck while trying to reach Europe.
Malta's Prime Minister Joseph Muscat said as many as 900 people may have died off the coast of Libya when a large boat capsized, by far the highest death toll in modern times among migrants trafficked in rickety vessels across the Mediterranean.
Italy and Malta were working to rescue another two migrant boats with around 400 people off the coast of Libya on Monday. Hundreds of kilometres (miles) to the east, coast guards were struggling to save scores of migrants from another vessel destroyed after running aground off the Greek island of Rhodes.
Greek coast guards said at least three people were killed there. Television pictures showed survivors clinging to floating debris while rescuers pulled them from the waves.
Italy's Prime Minister Matteo Renzi compared the smuggling of migrants across the Mediterranean to the African slave trade of 300-400 years ago.
"When we say we are in the presence of slavery we are not using the word just for effect," he told a news conference. "The point is that we can't accept this kind of trade in human lives."
European officials are struggling to come up with a policy to respond more humanely to an exodus of migrants travelling by sea from Africa and Asia to Europe, without worsening the crisis by encouraging more to leave.
"Search and rescue alone is not a silver bullet," said German Interior Minister Thomas de Maiziere. "If you just organise search and rescue, criminals who get the refugees on board will send more boats."
But a sharp reduction in European naval search and rescue efforts since last year appears to have made the voyage far more perilous, increasing pressure on politicians to soften their hearts.
Last year Italy called off its naval operation in the southern Mediterranean, known as "Mare Nostrum", because of its cost and domestic opposition to sea rescues that encourage more migration. It was replaced in November by a far smaller and less ambitious EU mission with a third of the budget.
"This is a humanitarian emergency that involves us all," the International Organization for Migration's Italy Director Federico Soda said, calling for a mission equivalent to the Italian operation to be relaunched immediately.
If the toll is confirmed in Sunday's tragedy, as many as 1,800 migrants will have died so far trying to cross the Mediterranean since the start of this year. The IOM estimates around 21,000 made the voyage successfully.
In comparison, by the end of April last year, fewer than 100 had died out of 26,000 who crossed.
The number of migrants normally surges in the summer, meaning far greater numbers are likely to attempt the voyage in coming months. In total last year 174,000 made the journey successfully and around 3,200 died.
The IOM estimates hundreds of thousands of people could be planning to attempt the crossing from Libya, now in a lawless state with two competing governments at war with each other and incapable of policing people-smuggling gangs.
REALITY HITS US IN THE FACE
"The reputation of Europe is at stake," said Italian Foreign Minister Paolo Gentiloni. "I have been saying for weeks and months that Europe has to do more, now unfortunately the reality has hit us in the face."
The vessel overturned and sank off the coast of Libya on Sunday when passengers rushed to one side to attract attention from a passing merchant ship. A Bangladeshi survivor told police there had been 950 passengers onboard, according to the IOM.
In the Maltese capital Valletta, coast-guard officers brought ashore the 24 corpses found so far. Wearing white protective suits, they carried the victims in body-bags off the Italian ship Gregoretti and deposited them in hearses as survivors looked on from the deck.
Twenty-eight survivors rescued so far will be taken on the same boat to the Sicilian port of Catania.
In Greece more than 90 people were rescued from the boat wrecked off the coast of Rhodes: "We have recovered three bodies so far – that of a man, a woman and a child," a coast guard official said.
Europe's politicians face criticism from aid and human rights groups that they have been abandoning those in need of help to pander to anti-immigrant sentiment among the electorates in their home countries.
European foreign ministers held a moment of silence at the start of their meeting in Luxembourg.
However there are differing views among them about what needs to be done, from ramping up costly search and rescue operations to trying to intervene in Libya. Renzi said a military operation in Libya was not on the table.
Malta's Muscat said the United Nations should mandate a force to intervene directly in Libya to disrupt or attack people-traffickers and stop boats from setting off.
France called for a bigger search and rescue at sea. Sweden said it would send its own coast guards if the EU did not do more.
Lawlessness in Libya has made it almost impossible to police criminal gangs who can charge thousands of dollars to bring mainly sub-Saharan Africans to Europe.
Only last week around 400 migrants were reported to have died attempting to reach Italy from Libya when their boat capsized.
Northern European Union countries have so far largely left rescue operations to southern states such as Italy. According to the IOM, Italian coast guards have rescued 10,000 migrants in the Mediterranean in the past few days.