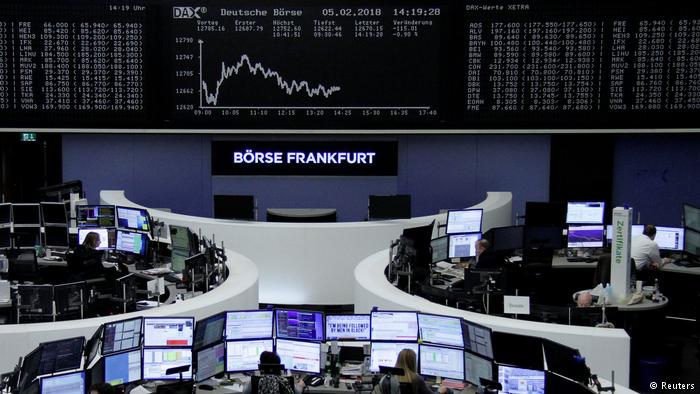 Global markets continue to wobble precariously. European markets took a big hit as Tuesday's trading began, following major losses across Asia and particularly in Japan. Wall Street fared no better on Monday.
European markets opened on Tuesday awash with red, with the main benchmark indices all down around 3 percent following Wall Street's Monday rout.
Minutes after the bell to signal the start of trading, Germany's DAX index dropped 3 percent to 12,308 points. It was a similar story in France and the UK, whose indices opened 3 and 2.5 percent lower respectively.
It means that Europe's Stoxx 600 index is set for its worst day since the Brexit vote, and it worst seven-day fall in two years.
The prosepct of a higher-than-expected rise in US interest rates this year has spooked investors on the ground. Rising wages in the US, coupled with the prospect of inflation, may force the US Federal Reserve to tighten the money supply and increase borrowing costs.
However, Europe appeared to have avoided the worst of the share falls seen on Monday in the US and earlier on Tuesday in Asia. According to Unicredit strategists, the greater weight placed by European markets on industrial stocks and financials should see Europe better suited to weather the current financial storm.
In the US, however, the recent surge in equities has largely been thanks to volatile technology stocks, the kind of risky assets investors are now looking to dump.
Nikkei shares suffer biggest one-day points-drop since 1990
Japan's Nikkei 225 Stock Average plunged by more than 7 percent in early trading on Tuesday, suffering its biggest one-day points-drop since 1990.
The Nikkei lost 1,589.17 points by Tuesday afternoon, before recovering slightly. The index closed at just above 21,500 points, down 5 percent.
Elsewhere, Hong Kong's Hang Seng index sank 3.9 percent, while Australian shares shed four months of gains in Tuesday's early trading.
All other regional markets were also lower.
It follows a day of heavy losses on Wall Street, which saw the Dow Jones Industrial Average, an index of 30 major US corporations, close at 24,346.13, down 4.6 percent.
The broad-based S&P 500 dropped 4.1 percent to 2,648.49 and the tech-heavy Nasdaq Composite fell 3.8 percent to 6,969.45.
Lawmakers unnerved
Top Japanese officials moved to downplay concerns on the trading floor on Tuesday.  Finance Minister Taro Aso declined to comment on share prices, but insisted that corporate performances were not getting worse.
Economy Minister Toshimitsu Motegi said he was keeping a close eye on market movements, adding that Japan's economy remained stable and improving.
The Reserve Bank of Australia, the country's central bank, said it would leave cash rates (the interest rate that banks pay to borrow) unchanged at 1.5 percent, citing household consumption as a "continuous source of uncertainty."