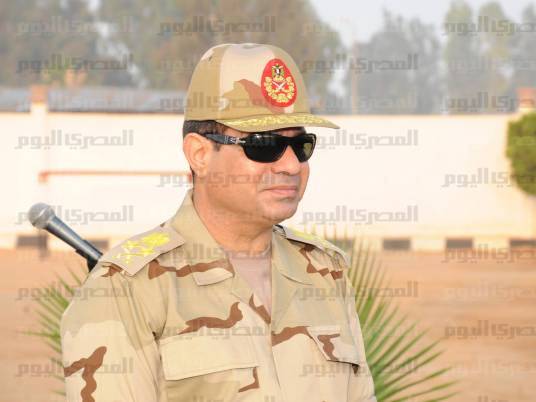 Here are excerpts from General Abdel Fattah al-Sisi's speech at the graduation ceremony for the Navy and Air Defense academies, broadcasted live on state media on Wednesday morning.
"I said Egyptian national security is at risk amid internal political differences, to which some were surprised."
"Don't you think I deceived the former president [Mohamed Morsy], for the Egyptian army is neutral in regards to all factions, and is under the leadership of legitimacy, not any other leadership."
"I told him six months ago that his project is not working and that he should go back on it is too late."
"When I find military uniforms and weapons smuggled in from foreign countries, and rumors that the army is divided, I say I swear to God the great Egyptian army is united."
"You want to rule or else destroy the country. You want the army to be with you or else destroy it. I call on the Al-Azhar, the Church and all institutions to assume responsibility before it is too late. There are some who want to take the country to a critical curve."
"We said we are willing to hold elections that are supervised by the whole world, including the United Nations."
"I ask all honorable and faithful Egyptians to take to the streets on Friday, to mandate me to confront terrorism and violence. I did not ask of you anything before."
"I want you Egyptians to delegate the army and the police to confront violence in a suitable way. Please bear the responsibility with the army and the police. Show your steadfastness. This does not mean that I want violence or terrorism."
"If violence or terrorism are resorted to, the military and the police are authorized to confront that violence and terrorism."