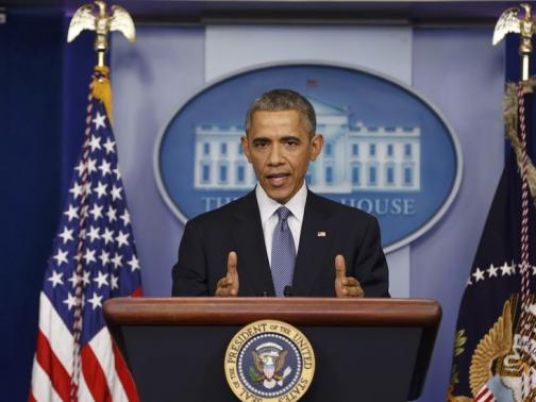 Nader Modanlo was facing five more years in federal prison when he got an extraordinary offer: US President Barack Obama was ready to commute his sentence as part of this month's historic and then still-secret prisoner swap with Iran. He said no.
To sweeten the deal, the US administration then dropped a claim against the Iran-born aerospace engineer for US$10 million that a Maryland jury found he had taken as an illegal payment from Iran, according to interviews with Modanlo, lawyers involved and US officials with knowledge of the matter.
The surrender of the US claim, which has not previously been reported, could add to scrutiny of how the Obama administration clinched a prisoner deal that has drawn criticism from Republican presidential candidates and lawmakers.
A Washington-based spokesman for the Justice Department declined to comment on discussions over the $10 million, which the jury found that Modanlo was paid to help Iran launch its first satellite in 2005. Modanlo says the money was a loan from a Swiss company for a telecoms deal.
In the prisoner swap, five Americans held in Iran were released at the same time as seven Iranians charged or imprisoned in the United States were granted pardons or had their sentences commuted. The deal accompanied the January 16 implementation of a landmark agreement that curbs Iran's nuclear program in exchange for sanctions relief.
Even after receiving the improved offer on Friday, January 15, Modanlo said he didn't budge at first. He wanted a chance to clear his name in court, he says.
"I was mostly disappointed that I have to give up my right to appeal," Modanlo, 55, told Reuters in one of his first interviews since being released.
"If they believe in their justice system why would they deprive me of it? Let them prove me wrong."
As part of their clemency agreements, all of the Iranians had to renounce any claims against the US government. All but one had been accused of violating the economic sanctions the United States has enforced against Iran for decades.
Modanlo's reluctance to accept Obama's offer became an eleventh-hour complication to an otherwise carefully staged deal with Iran that had been negotiated in secret for months by US Secretary of State John Kerry and his Iranian counterpart.
He only agreed to accept the clemency offer on Saturday, January 16 as the clock ticked toward what US officials said was the final deadline, according to Modanlo and US officials.
He was freed the next day from a federal prison near Richmond, Virginia. The release marked an abrupt conclusion to his case after a sprawling, decade-long investigation into Modanlo's role in brokering Iran's access to space technology. US federal agents had pursued evidence from the suburbs of Washington to Switzerland and Russia.
Modanlo was serving the longest sentence of any of the seven Iranians and had the most extensive, established connections to Iran's government.
He was also the only one known to have initially declined Obama's offer, according to interviews with lawyers for the men.
An official at Iran's interests section in Washington, Iran's de facto embassy, testified in Modanlo's defense at his 2013 trial. The same Iranian representative, Fariborz Jahansoozan, was instrumental in brokering the prisoner exchange in recent months, lawyers for those involved have said.
"This story is done and over with," Jahansoozan said when reached by Reuters, declining to discuss the case in detail. "Please let it go and move forward."
After two years in prison, Modanlo says he is finding that hard. "I know this cloud is going to be over my head forever," he said.
Americam dream soured
Modanlo grew up in northern Iran, the son of a wealthy landowner. As a child, he remembers watching the Apollo 11 mission in 1969 that put American astronauts on the moon and being inspired to become a space engineer.
Decades later, after moving to the United States and becoming a US citizen, Modanlo had become a space entrepreneur with a company valued at $500 million.
He helped launch an American satellite from a Russian rocket in 1995. His company, Final Analysis, focused on the emerging field of low-orbit satellites for data services.
But a series of missteps drove the company into bankruptcy in 2001, and Modanlo was sued by a former partner, who accused him of selling missile technology to Iran.
Modanlo says US authorities used the missile claim to win assistance from Switzerland in obtaining evidence against him. Raids at Modanlo's Maryland home and office seized a truck load of documents and 120 computer hard drives but no supporting evidence for that claim, he said.
"They knew this was false. They knew I had no missile technology," he said.
The ensuing investigation uncovered documents prosecutors say showed Modanlo brokered a deal between Iran and Russia to launch the satellite in exchange for a $10 million fee. A Maryland jury convicted him of sanctions violations after a six-week trial. He was sentenced to eight years in prison.
In an appeal, Modanlo's lawyers argued that private communications between the trial judge and prosecutors had excluded evidence that could have changed the outcome.
Robert King, one of the judges who heard Modanlo's appeal, admonished prosecutors for that practice in an October hearing.
US Attorney Rod Rosenstein said the evidence against Modanlo had been disclosed in court and proved "beyond any reasonable doubt that Mr. Modanlo secretly helped Iran launch a satellite for $10 million."
Modanlo said he felt certain the appeal would go his way. Then his lawyer told him that he would have to give up that appeal and be stuck with the $10 million forfeiture claim if he took the clemency offer.
"I waive my right to bring a claim against you, but your claim continues for God knows how many years against me?" Modanlo said. "After back and forth a number of times they agreed to take the $10 million off the table."
After calls from his attorneys and Iranian representatives failed to convince Modanlo to take the clemency, it was a pleading and tearful call from his sister in Iran that finally made him relent, he said.
"If it was for me, I would never have taken the deal," he said.