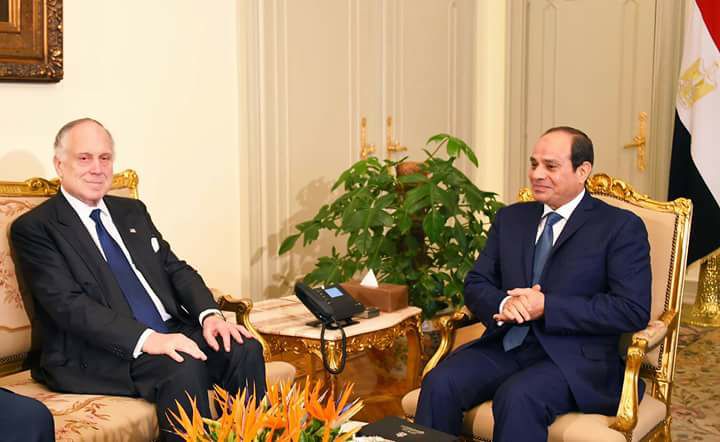 President Abdel Fattah al-Sisi received the President of the World Jewish Congress (WJC) Ronald Lauder on Tuesday along with Thaer Moqbel, adviser to the President of WJC on Middle East Affairs.
Sisi stressed during the meeting Egypt's keenness to continue communication with all sectors of the American community, to develop common positions on ways to deal with the challenges facing the region. The meeting was attended by head of Egypt's General Intelligence service, Khaled Fawzy.
The Egyptian president said that the country seeks to resolve crises that face the region, as part of its constant and continuous concern to preserve the national state and support its institutions; explaining the nation's desire to achieve unity and territorial integrity, as well as provide a better future for all people in the region.
He added that international community should adopt a decisive position on terrorism and stand firmly against all parties that provide support to terrorist groups, so that efforts to besiege and eliminate terrorism can be fruitful.
The Egyptian presidency spokesman Alaa Yousef said that Sisi pointed to the efforts exerted by Egypt to reach political solutions on a number of crises in the region and underlined the importance of intensifying coordination with the United States to mobilize international support, urging concerned parties to respond to these efforts in a way that contributes to the stability in the Middle East.
The President affirmed Egypt's keenness to achieve Palestinian reconciliation and the return of the legitimate authority to assume its responsibilities in the Gaza Strip, convinced of the importance in pushing forward negotiations between the Palestinians and the Israelis to reach a just and comprehensive solution to the conflict.
Edited Translation from Al-Masry Al-Youm