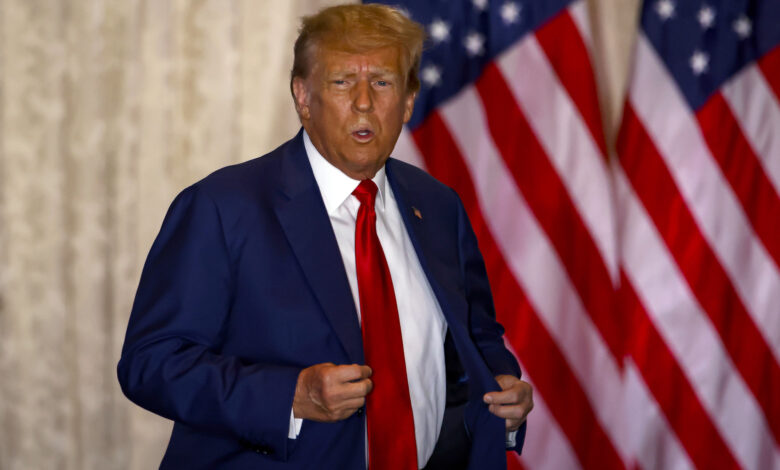 Former president Donald Trump claimed Tuesday night that the Presidential Records Act requires prolonged negotiations over the return of documents — while denouncing the August federal search of his Mar-a-Lago property.
He said: "Just so everyone knows, I come under what's known as the Presidential Records Act, which was designed and approved by Congress long ago just for this reason. Under the act, I'm supposed to negotiate with NARA, the National Archives and Records Administration."
He went on to disparage NARA.
Facts First: Trump's claim is false. The Presidential Records Act says that, the moment a president leaves office, the National Archives and Records Administration gets custody and control of all presidential records from his administration. Nothing in the law says there should be a negotiation between a former president and NARA over a former president's return of presidential documents — much less that there should have been a monthslong battle after NARA first contacted Trump's team in 2021 to try to get some of the records that had not been handed over at the end of his presidency.
Jason R. Baron, former director of litigation at NARA, told CNN in an email last week (when we fact-checked a similar false claim by Trump): "The former President is simply wrong as a matter of law. As of noon on January 20, 2021, when President Biden took office, all presidential records of the Trump Administration came into the legal custody of the Archivist of the United States. Full stop. That means no presidential records ever should have been transferred to Mar-a-Lago, and there was no further talking or negotiating to be had."
Timothy Naftali, a CNN presidential historian, New York University professor and former director of the Richard Nixon Presidential Library, described Trump's claim as "nonsense" and said the former president's description of the Presidential Records Act is "a matter of fantasy," concocted to allow Trump to "pretend that he's a victim."
The law, Naftali said in an interview last week, makes clear that documents Trump had at Mar-a-Lago are presidential records that legally belong to the public and are legally required to be in NARA's custody. The law provides "no room for debates and discussions between presidential advisers and the National Archives at the end a presidency" about such records, Naftali said.