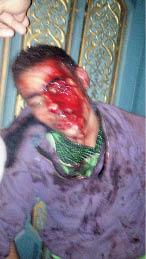 While female genital mutilation (FGM) remains a shocking fact of life in Egypt, recent evidence suggests younger generations may be challenging the practice.
According to the 2008 Demographic and Health Survey of Egypt, 91.1 percent of women aged 15-49 years underwent FGM, but only around 74 percent of girls aged 15-17 years, a percentage that is expected to drop to 45 percent over the next 10 years.
Compared to results from the 1995 survey, which recorded a staggering 96 percent of women aged 15-30 years having experienced genital mutilation, this is positive – if patient – progress.
The surveys of 2000, 2005 and 2008 all suggest urban women are less likely to undergo genital mutilation than those living in rural areas.
In June 2008, the Egyptian parliament criminalized female genital mutilation with those found guilty facing a minimum prison sentence of 3 months and a maximum of 2 years. Others could face fines of between LE1000 and LE5000.
The survey also showed that 75 percent of FGM operations were performed by medical staff, compared to 17 percent in 1996.