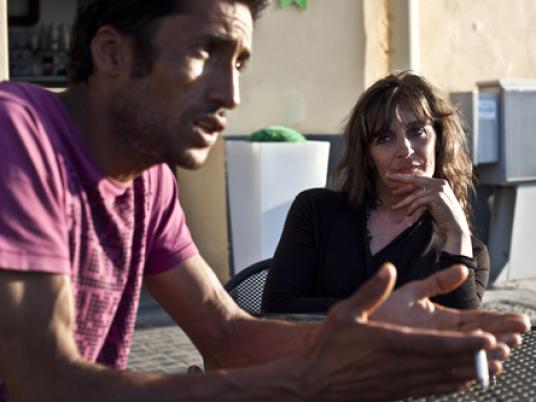 Abderrahim lives near the Turin migrant detention center he was previously held in. While waiting to see if he will get official residency in Italy, he spends time trying to communicate with people still inside, climbing up to wave at them from a balcony in a tower block, waving at a police car coming out of the center, making phone calls, putting messages in tennis balls. He goes to the doctor with a bad leg and tells him he was fine before his spell in the center. He says people's personalities change when they stay in those places, "even the way you walk changes."
A couple of local residents, like locals in most places, are suspicious of the foreigners. "What do they want, caviar?" they wonder. To them the center looks nice: "They get to play football, even volleyball" one says, they get food and water "and they used to eat and drink in sewage" — presumably in their countries of origin.
Abderrahim is the Moroccan protagonist of "Luck will Save Me," one of three short films about migrant identification and expulsion centers in Italy by anthropologist Alexandra d'Onofrio. Screened by Cimatheque on Thursday, each film is 15 to 20 minutes long and follows a different North African man who has spent time in one of these centers. The centers have been criticized by Doctors Without Borders for bad hygiene, overcrowding, and inadequate healthcare. Abderrahim's still-detained friends throw the tennis balls back over the walls with messages asking for help and complaining of mistreatment.
Another of d'Onofrio's films, "Love in the Time of Frontiers," follows a Tunisian called Nizar who is married to Winny, an Italian woman. They are about to have a baby. The film reconstructs his sea journey to Italy and his dramatic escape from a center in Sicily's Trapani, using a combination of mobile phone footage and staged photos. The contrast between the gritty, jumpy video of the journey and the center's squalor on the one hand, and on the other the artificial stills of Winny acting sad (of which there are many), holding paperwork, or about to go into labor, is surprising. The stills certainly offer light relief, particularly one of her on a hospital bed with the surprised "O" of her mouth the only thing we can see of her face. A voiceover by the couple tells the story.
Clearly d'Onofrio wanted to make something more human than a news report, and is opposed to prohibitive border control systems. So dramatic music, artistic effects (semi-abstract shapes and a soundtrack of breathing noises during a birth scene, for example), and the comedy of the staged stills are combined with somewhat rough home-movie style footage. These elements enliven the films, which is important because people who feel sorry for themselves are not the most conventionally attractive subjects and furthermore can trigger patronizing reactions of pity. But they also lead to some confusion between what is staged and what is not, and indeed lack of clarity about what is happening.
An increasing number of films, art and books are being produced on the subject of migration. One which describes particularly well the feeling of being trapped in unlikely places and the physical effects of being an undocumented migrant is Shahram Khosravi's 2010 book "'Illegal Traveller: An Auto-Ethnography of Borders." It also highlights the humiliating process of having to turn oneself into people's expectation of a refugee — with the correct sob stories, the ability to jettison one's privacy, and sober clothing — in order to get through the system. Using his own experiences as an asylum seeker and through research and interviews, Khosravi describes what it feels like to be criminalized and as a noncitizen be seen as having a wasted or failed life.
The feeling of being penned in, of having no options, is also well presented in Pawel Pawlikowski's fictional 2009 movie "Last Resort." Through a feminist love story, it conveys the arbitrary, Kafkaesque rules in a British holding center for immigrants, and those willing to prey on desperate people who might be persuaded to do things they wouldn't normally do. It mixes fiction and reality by filming the partly improvised story in Margate where thousands of asylum seekers are confined, using some of those suspicious locals as actors alongside the professionals. "They assume the refugees get all sorts of benefits English people don't get, which is rubbish, of course," Pawlikowski has said. He made a sympathetic "issue-based" film that also stands alone as something strange and mystical.
The style of d'Onofrio's films, with their unsophisticated look and clear ideological bias, means that they are unlikely to appeal to and therefore educate people who are misinformed about migrants and suspicious of them, like the locals in "Luck will Save Me." The films do not put forward an argument about migrants' value to host societies, or about why people need to move to different countries, but focus on human experience, the shocking conditions inside the centers, the injustice of being at the mercy of arbitrary rules, of being kept away from one's nearest and dearest. There was definitely a sense of "preaching to the converted" in the screening. At the same time the films contain nothing new. Their value is in documenting and sharing personal stories with people who are already sympathetic.
The final film in d'Onofrio's triptych is "Daddy's Not Coming Back," which has a more straightforward style than the other two. It is about a Moroccan man, his Italian wife and their 5-year-old son. After 18 years in Italy, having arrived when he was 11, Kabbour was caught selling DVDs and deported. He describes his impressions on entering the center: stinking blocked toilets, and bizarrely, "all the people were cut, everywhere you looked, their ears, necks, legs, all sewn up." His wife and son follow him to Casablanca. In one scene she gives in to her crying son and turns back from their flight home at the last minute, giving the film a dramatic finale.
Like both Khosravi and Pawlikowski, d'Onofrio is not interested in making migrants look like angels, but lets them be normal people. This is a strength. She also deplores people's attitudes toward immigrants, but does not attempt to explain why such attitudes exist. As interest in borders grows, as migration becomes an increasingly trendy subject, more work is needed to persuade people that it is absurd to expect other people to stay where they were born even if they have no work, education, food — in effect denying human nature to struggle for a better life. People also need to be educated about the benefits of being part of a heterogeneous society, and about why governments — from Egypt's to Italy's to Britain's — blame problems on foreigners and create atmospheres of fear.