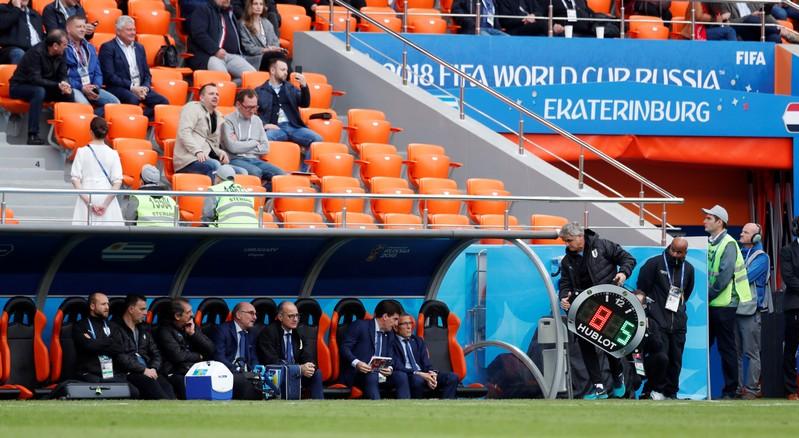 Russian fans took to social media on Saturday to demand why whole rows of prime pitch-side seats were empty during the World Cup match between Egypt and Uruguay, while locals had to pay nearly a third of an average monthly salary for a poorer view.
The official attendance for Friday's game at Ekaterinburg Arena was just 27,015, according to FIFA, at a stadium which has had its capacity expanded to 33,061 with the unusual addition of temporary external stands behind each goal.
The thousands of empty bright-orange seats were embarrassingly conspicuous to fans all over the world watching TV coverage of the second game in soccer's premier event.
"I was a bit upset to see empty seats but I don't have control over this, or the necessary information. It's our FIFA partners who deal with tickets," regional governor Yevgeny Kuyvashev said on Instagram.
A spokesman for soccer's governing body said: "FIFA has looked into this and we can confirm that the matter related to the match in Ekaterinburg was mainly linked to 'no-shows' from all constituent groups. There were no problems with FIFA's ticketing operations on-site that would have prevented ticket holders from attending the match and, as already mentioned, 32,278 tickets had been allocated."
'Constituent groups' includes member associations and sponsors, as well as the general public.
Olga Kotlyarova, a former Russian athlete who works in the information department of the city administration, wrote on Facebook that many of the empty seats belonged to VIP guests who had decided to watch from an indoor lounge because the weather was cold.
There was no shortage of scathing comments from locals.
One man, Vlad Chekhomov, posted on social media: "My friend was sitting in the top rows of the main stand, right under the roof, for 12,600 rubles ($200). He would have been better off outside."
The average monthly salary in Yekaterinburg is about 40,000 rubles, and a typical pension around 12,000.
A Russian fan, Viktor Smirnov, complained on social media he had ended up in the outside stands despite originally buying what he thought was a pitch-side seat, and said the unfilled seats on the day were a scandal "on an international scale".
Another, Yevgeny Strugov, said he had bought a seat that turned out not to exist, and twice had to persuade police to let him through. "They were trying to accuse me of forging my ticket," he said.
The FIFA spokesman said he could not comment without knowing the case, but there were clearance areas at every stadium where any ticket problems could be resolved.
($1 = 63.1309 rubles)