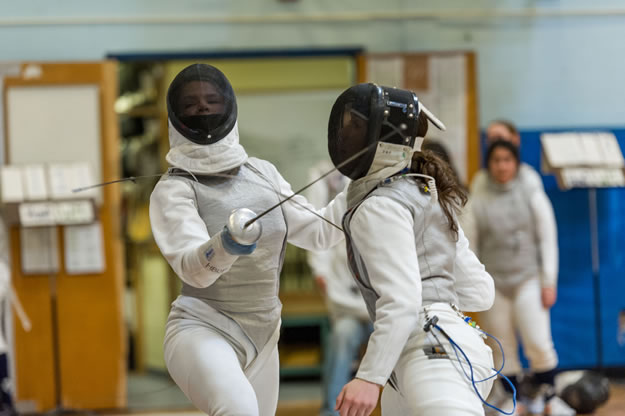 Sports is a passion of many and an art mastered by a few. Athletes around the world know what it takes to succeed in their sport, and they know it's not easy. Between countless hours spent training and following a very strict diet, athletes don't have much time to enjoy life outside their sport.
Fencing is one of the less conventional sports around the world. For those who are unaware about exactly what it is, to put it simply: it's a sword duel. However, it is not simple and therefore it's more than that. It's a sport with extreme physical and mental demands. A fencer invests countless hours training to reach a decent level of skill. It takes over one's life. However, the love for the game makes it all worth it, as any fencer would tell you.
Despite its other difficulties, Egypt thrives in fencing as a sport, collecting medals worldwide. Who can forget Alaa El Din Al-Sayed's silver medal at the 2012 London Olympics? The path towards excellence isn't an easy one for fencers, the lack of funding and the small number of available fencing camps and intense periods of training – usually outside Egypt – both pose hurdles for fencers on their 'Road to Rio', or the Olympics in general. Yet, female fencers face another problem of their own: gender inequality in fencing.
In Egypt, fencing is considered a 'manly sport'. So, if you're a fencer, all of the above is true. But if you're a female fencer… you're in for another story.
"I once had a coach who wanted to cancel the whole women's national team," says Aya Mahdy, one of the top tier fencers, not only in Egypt but in the world. She recently finished in third place at the World Cup Satellite Championship.
She adds, "it's been a year since the Epee (one kind of fencing) women team travelled to international championships."
When asked about how much the men's national team had travelled to international competitions in the same year she replied, "countless times."
Nourhan Ossama, a Member of the national team who achieved, among other things third place in the African Championship 2017 says there is a reason why the girls team hasn't travelled for so long,
"Every championship, there has to be a choice of who travels to international championships.  The Egyptian Fencing Federation chooses a bigger number of males than females. Their excuse is that boys are stronger."
"They bury the girls by not giving them enough chances to compete."
The discrimination doesn't stop with the fencing federation, it also extends to individual club policies.
"As for our contracts with the clubs, we get paid peanuts compared to the guys," Nourhan Ossama says.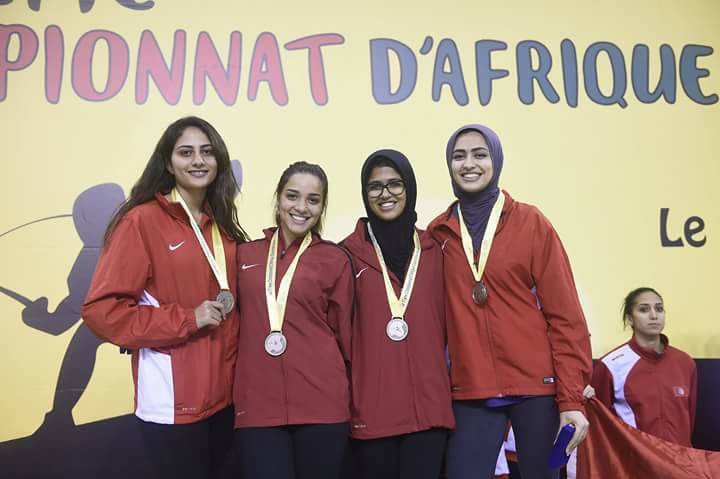 Aya Mahdy (left) and Nardine Ehab (second left) accept their medals for the teams competition in the African championship in 2017 
But the problems female fencers face in sports aren't limited to funding. Nardine Ihab, who snatched the other bronze medal in the World Cup in addition to scoring first in the African championship and first in the Arab championship, shares her colleagues' concerns, but she has a problem with how society sees female fencers.
"People usually don't even know what fencing is. They confuse it with other games such as archery."
When Nardine tries to explain what fencing is, the reaction she gets is almost always the same, "but this is a dangerous sport. A girl could get hurt playing it."
Once more, she proceeds to explain that fencing is not a violent sport, and that it's mostly about coordination and fitness.
"We train with the guys. We fence them, and we even sometimes win. I do not understand what makes a girl less adequate as a fencer. I just don't get it."
Not only that, but making a career out of fencing is very difficult for girls.
"For every 10 referees, only 2 of them are girls." Nardine explains. That is visible during most championships. It is very rare to find a female referee or coach for the matter.
However, Abdelmomeim Elhusseiny, President of the Egyptian Fencing Federation, does not believe gender inequality exists within the fencing community, "I believe there is no gender inequality of any sort. On the contrary, women are contributing so much to the sport. We have a girl who just won third place in the world championship in Bahrain. Moreover, for the first time we even have one female coach among the national team coaches, the great Captain Shaimaa El-Gammal."
Gender inequality in Egypt prevails on an international level.  Even in the Olympics, Egypt does not send the same number of fencers from both genders. In the 2016 summer Olympics, which took place in Rio de Janeiro, Egypt sent five men compared to only two women. What's really significant about this number that, it takes 3-4 to compete in the team competition, so by sending one more girl, both teams would have competed in the team competition.
So, the question remains, "When do female fencers in Egypt stop feeling like they have to struggle every single day for their basic rights?" The love for the game was never meant to be exclusive to men. But will female fencers live to see the change?