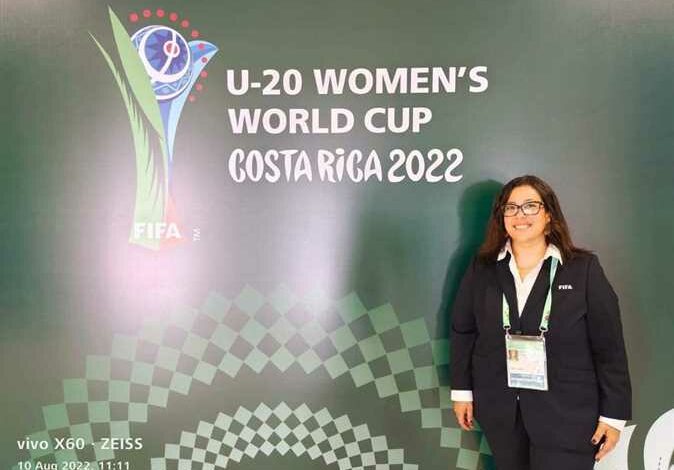 Amina Kassem has been selected by the International Federation of Football Associations (FIFA) to manage the 2023 Women's World Cup matches – becoming the first Egyptian and African woman to ever take on the role.
Kassem previously managed and organized a large number of championship matches in the Australian city of Melbourne. She was in charge of stadiums, gate opening times, crowd entry, and everything related to teams on the field – including their slogans, the national anthem, and more.
She expressed happiness at taking on her latest task, saying: "These days are the most beautiful in my life. This tournament is a very important step in my career, and I will continue to represent Egypt by being present in international forums and world championships."
In an interview with Al-Masry Al-Youm, she added: "I prepare for my role in the match to the fullest extent and in time. Everything that happens in the stadium at the time of the match is my specialty up until the starting whistle."
The 2023 Women's World Cup, which brought Spain and England to the finals, will be held in Australia and New Zealand after the Swedish national team won by defeating the Australian national team by two goals to one.
Kassem graduated from the Faculty of Economics and Political Science at Cairo University, and was chosen to work for the Ministry of Trade and Industry.
Her employment there only lasted a year, until she chose to distance herself from academic work.
"Working in the Egyptian Ministry of Trade and Industry was too theoretical. And it did not fit my personality, because I love being active and moving. So I decided to change the field and I sought to work with the Confederation of African Football."
"Being a graduate of French schools helped me in this because the French language is spread across Africa," she added.
Kassem moved to the Confederation of African Football for the Development Department responsible for arbitration, management, and training courses.
FIFA then selected her in 2016 to work as an assistant general coordinator for the U-17 Women's World Cup held in Jordan.
"I gave a distinguished performance in this tournament which made FIFA officials assign me the task of managing matches in the U-20 Women's World Cup held in Costa Rica, and the current World Cup in Australia and New Zealand," she added.
Kassem was assigned by FIFA as an assistant general coordinator for the Women's World Cup in France. She mentioned that the Costa Rica tournament was postponed from 2020 due to the coronavirus outbreak.
"FIFA chose me for this tournament among other managers who were being evaluated in preparation for the World Cup 2023," she continued.
Speaking about why she got into football specifically, Kassem explained that her family's love for football inspired her to pursue it and they "supported her every step of the way."
"My husband as well, who I met during my work in the Confederation of African Football, and was a colleague of mine, was very supportive and understanding of the nature of the field and the different work schedules on vacations and many travels," she said.
She added that she has a dream that she hopes to achieve, which is to continue working with FIFA as director of matches in all international tournaments, for women and men.
As the first Egyptian and African woman to run matches for FIFA, Kassem sent out a message to all women: "There is no field that is difficult, you can be present everywhere and shine and succeed so long as there is passion and determination."
Edited translation from Al-Masry Al-Youm