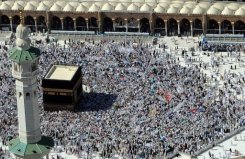 The Tourism Ministry has announced that the first group of Hajj pilgrims will set out by land to Saudi Arabia on September 7.
The ministry warned travel agencies against imposing extra fees on pilgrims under the pretext of improved services, adding that the exact fees have been agreed upon between the ministry and the Chamber of Travel Agencies.
Buses manufactured prior to 2007 will not be permitted on the trip and the ones in service will be carefully examined before starting the 36-hour journey, said Sobh Abdel Fattah, general manager of the Tourism Transport Management.
An estimated 10,000 pilgrims will travel to Saudi Arabia with the help of 380 travel agencies, Abdel Fattah said.
The agencies are required to install a GPS system in the buses so they may be traceable in the event of an accident, he added.
There will be a extra driver for every six buses in case one of the drivers becomes ill and drivers will be subjected to medical examinations to ensure they are drug-free and do not suffer from illnesses that may affect performance during the long journey, said Abdel Fattah.
Head of the Preventive Medicine Sector of the Health Ministry Amr Qandil said the ministry plans to launch an awareness campaign for pilgrims to obtain the necessary vaccinations against influenza and meningitis seven to 10 days ahead of traveling.
Edited translation from Al-Masry Al-Youm