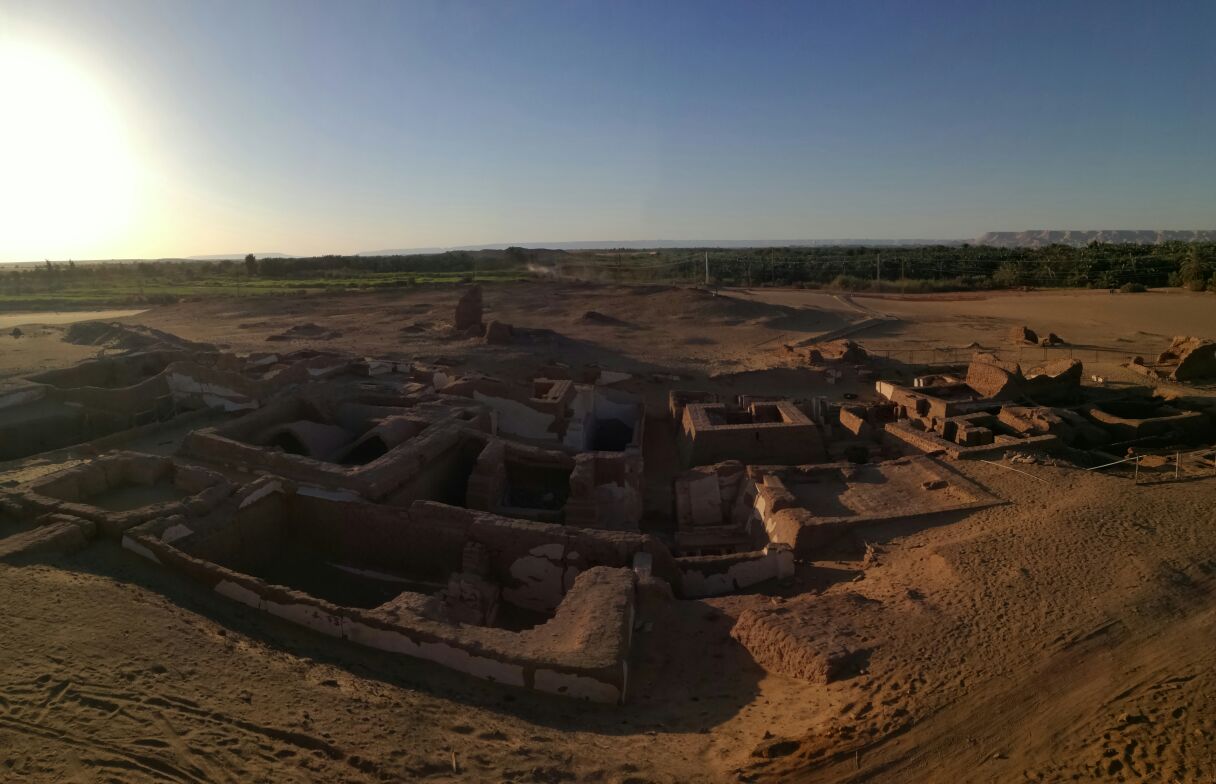 The Egyptian archaeological mission, operating in the Be'r al-Shaghala area of Dakhla Oasis, discovered five cemeteries dating back to the Roman era, during this years excavation season.
The discovered tombs are constructed of mud-brick, Head of the Egyptian Antiquities Sector with the Ministry of Antiquities, Ayman al-Ashmaw, said in a statement on Wednesday.
The first cemetery includes an entrance area that leads to a cross-sectional lounge and two burial chambers, Ashmawy said.
The second cemetery has a vaulted roof and consists of an entrance area that directly leads to the burial chamber, he continued.
Ashmawy noted that only the upper part of the third cemetery had been explored, and has a pyramid shape.
The fourth and fifth cemeteries share the same entrance area which leads to two burial chambers with vaulted ceilings, he explained.
The mission is scheduled to continue excavations on the site to reveal more secrets of the region, as part of the Antiquities Ministry's keenness to encourage Egyptian missions working in various archaeological sites, said Ashmawy.
Director General of Central Egypt Antiquities, Gamal al-Semestawy, said a number of artifacts in the cemeteries had been discovered as well, including parts of a mask made of gypsum and colored yellow, a set of pottery pots of different shapes and sizes, two plates including one with hieroglyphics writings and the other with hieratic writings, in addition to a pottery censer, and a small part of the base of a statue in the form of sphinx made of sandstone. The base size was recorded at 14 cm x 12.7 cm.
Director of Dakhla Antiquities and head of the Egyptian archaeological mission operating on the site, Magdy Ibrahim, said the mission previously discovered eight other cemeteries dating back to the Roman era that were well preserved. They all had the same architectural planning, consisting of a cross-sectional plateau that leads to two side burial chambers with vaulted ceilings of sandstone. The plateau has a ceiling covered with mud-brick, according to Ibrahim.
Be'r al-Shaghala archeological site is located to the west of the city of Mut, 3km into Dakhla Oasis. The recent excavation is at the center of three other archaeological sites, including Tal (hill of) Be'r al-Shaghala site, Mut al- Kharab site, and Tal Markula and Koam Beshay site.
The Antiquities Ministry has been excavating in Be'r al-Shaghala since 2002, according to Ibrahim.