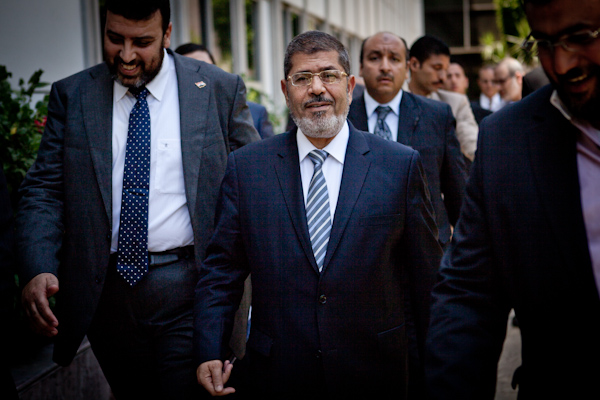 Prominent figures form Freedom and Justice Party, the political arm of the Muslim Brotherhood, have called on President Mohamed Morsy to issue a new constitutional declaration to withdraw legislative powers from the Supreme Council of the Armed Forces.
The SCAF held on to legislative powers by issuing a supplementary constitutional declaration on 17 June, after the Supreme Constitutional Court ruled on June 14 that the Parliamentary Elections Law was unconstitutional and that therefore the Islamist-dominated People's Assembly must be dissolved.
The two decisions led to demonstrations all over the country, and created a wide rift between the presidency on one side, backed by the Brotherhood, and the SCAF and the court on the other. Morsy issued a decree on Sunday reinstating the People's Assembly, which the Supreme Constitutional Court then canceled on Tuesday.
Ahmed Abel Rahman, an FJP leader and member of the Brotherhood's Guidance Bureau, told Al-Masry Al-Youm that "the president should issue a constitutional declaration without a referendum, to end the impasse of the parliament's dissolution."
The president should reinstate the 1971 Constitution and cancel all the constitutional declarations issued since the January 25 revolution started, said Ahmed Abo Baraka, a legal advisor to the FJP.
Morsy's legal advisor, Mohamed Fouad Gadallah, said that the presidential institution may issue a new constitutional declaration. During an interview with the privately owned Al-Nahar satellite channel, Gadallah said it has been suggested that the president take over legislative powers until a new People's Assembly is elected.
"We need legislative powers, we can't leave them in the hands of the SCAF," Gadallah said.
Yasser Ali, the acting spokesperson for the presidential office, said Morsy is holding ongoing consultations with various groups, legal experts and former judges over the verdict that dissolved the People's Assembly, as he had vowed to respect the latest court ruling.
Ali refused to comment on Gadallah's statements, but said that presidency's official statements are given only by the president himself and the presidential spokesperson.