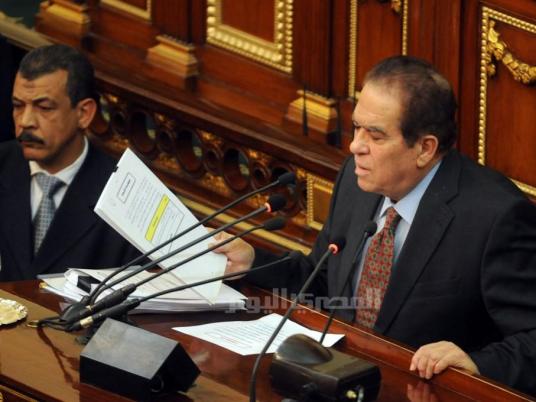 The Freedom and Justice Party decided in a meeting on Thursday to undo measures taken to withdraw confidence from Prime Minister Kamal al-Ganzouri's cabinet at the People's Assembly.
The party decided to withdraw its questioning and information requests after the recent limited cabinet reshuffle.
Al-Masry Al-Youm quoted Essam al-Erian, deputy FJP chairman, as saying that the party's executive office decided to reconsider the crisis, and will meet to decide on the issue on Saturday.
He said FJP MPs will either withdraw requests for questioning submitted to the People's Assembly's speaker or replace them with information requests.
"[The cabinet shuffle] did not meet the aspirations of the Egyptian people nor the Parliament, and it would have been better if the military council had dismissed Ganzouri's cabinet and assigned a new one to address the crises and problems," he said.
The four new ministers are Mohamed Abdel Hamid al-Nashar for higher education, Mohamed Saber Arab for culture, Omar Mohamed Mahmoud Salem for People's Assembly and Shura Council affairs, and Refaat Mohamed Hassan for manpower and immigration. They were sworn in in front of Field Marshal Hussein Tantawi, head of the Supreme Council of the Armed Forces, in an attempt to resolve the confidence withdrawal crisis, led by the Islamist majority in the Parliament.
Edited translation from Al-Masry Al-Youm