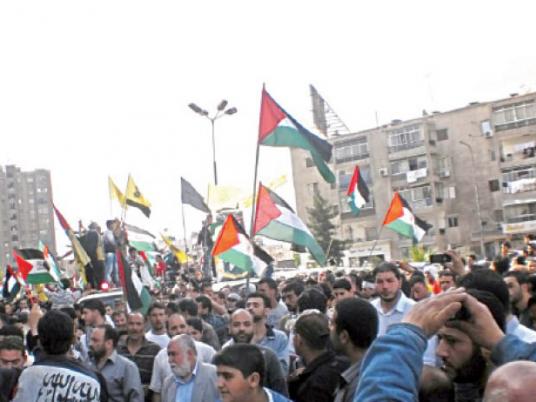 Rula Deeb, 26, was born in Damascus and calls Syria her home. But after months of government bombings, indiscriminate violence and rising scarcity of basic goods, Deeb, whose grandparents fled Gaza for Syria in 1948, felt she could no longer safely stay.
As a Syrian with Palestinian refugee documents, however, Deeb faced a particular predicament: Where could she go?
"I came to Egypt because, as a Palestinian, it is the only country that welcomes us," Deeb says, explaining her relocation to Cairo in October.
For Deeb, Jordan and Lebanon — where many Palestinian-Syrians flee — were not options because of the countries' travel restrictions, poor living conditions and other restrictive policies against Palestinian Syrians.
In comparison, Egypt had fewer initial barriers to entry. Unlike others in her situation, she could afford the airplane ticket from Damascus to Cairo, and, as a woman, she did not have to first apply for a visa.
Once in this country, however, Deeb and the estimated thousands of Palestinian-Syrian refugees here face a new kind of hardship: lack of access to humanitarian services.
Left in a legal limbo in Egypt, Palestinians are ineligible for assistance such as financial, social and health services that are available to other refugees, including Syrians, registered with the United Nations.
Whose mandate?
Decades after the Arab-Israeli wars displaced her family, Deeb had to grapple with the notion of being a Palestinian refugee.
Under international law, Palestinian refugees are descendants of Palestinians born in Mandate Palestine and displaced by the 1948 and 1967 Arab-Israeli wars. In 1949, a specific United Nations agency, the UN Works and Relief Agency (UNWRA), was established to register and protect Palestinian refugees living in five places: Syria, Lebanon, Jordan, Gaza and the West Bank.
Before the war in Syria, the 500,000 Palestinian-Syrians living there had nearly equal rights to other nationals. But as they were registered with UNRWA, they were never allowed a Syrian passport.
Instead, they had a temporary Syrian residency card designed specifically for Palestinian refugees — and which many governments do not accept at borders.
Egypt, according to UNRWA's mandate, is not one of the five Middle Eastern countries in which the agency is authorized to operate. Technically, that would make the UNHCR, the UN's refugee agency, responsible for assisting Palestinian-Syrians refugees in Egypt.
Karmen Sakhr, senior protection officer at UNHCR, says the government pledged to treat Syrians with Palestinian travel documents the same as other Syrian refugees. However, this has not been the case in practice.
Sakhr says the Foreign Ministry has asked UNHCR not to register Palestinian-Syrians. According to Sakhs, the ministry maintains that UNHCR should not register Palestinians because UNRWA is the responsible agency — even though UNRWA's mandate officially does not extend to Egypt.
The difficulty of granting Palestinians' citizenship rights locally and other Arab countries relates to the preservation of their right of return.
But this has also led to discriminatory domestic policies toward Palestinians by Arab countries, including Egypt. Critics say these countries fear that if the country makes life too comfortable for refugees, Palestinians will have more of an incentive to settle.
The issue is further complicated by the government's treatment of Palestinian refugees who came to Egypt after the 1948 and 1967 Arab-Israeli wars.
Perla Issa, a researcher on Palestinians in Egypt, says Palestinians born here face many barriers, including no permanent residency, restrictions on travel abroad and limited work opportunities. They are also not under the jurisdiction of either UNRWA or UNHCR, falling into a similar legal loophole removed from the limelight.
Following the first Gulf war and expulsion of Palestinian refugees from Kuwait, Egypt barred Palestinians from entering the country. In the mid-2000s, as a result of escalating violence toward Palestinians in Iraq, many Palestinians from there also came to this country.
Issa says they were able to register with UNHCR because UNHCR worked with Palestinians in Iraq, unlike the case with Palestinian-Syrians.
Coming to Egypt
Since the start of the Syrian conflict two years ago, an estimated 150,000 refugees have fled to Egypt, and about 500,000 more to neighboring countries — mainly Jordan, Lebanon and Turkey. In Egypt, they live largely in Cairo and other major cities, considered preferable to the refugee camps of Jordan, Turkey and Lebanon.
Palestinians, intentionally and not, are often caught up in regional politics. Initially, Palestinian Syrian communities primarily stayed out of the conflict, in part because of complicated political alliances and the image that the regime had been good for Palestinians.
But in December, the conflict came to the doorsteps of the 150,000 residents of Yarmouk, the largest Palestinian refugee camp in Damascus. Intense fighting broke out between regime supporters, mainly the Palestinian Front for the Liberation of Palestine, and opposition Syrian and Palestinian factions.
Coupled with a barrage of government bombings, the fighting led to more than 700 deaths and a mass exodus from the camps.
There is no clear documentation regarding the number of Palestinian-Syrians in the country. Estimates place it somewhere in the low thousands, but predict it will rise as conditions in the nine official and three unofficial Palestinian refugee camps in Syria worsen.
Ahmed Abughazalah, public information associate at UNHCR, says that, as of February, 192 families and 458 individuals have asked to register at UNHCR. The agency, complying with the government's request, refused.
While some Syrian families spent months debating their departures, for Alaa Hamzah, a Syrian-Palestinian whose grandparents came from Haifa, her family acted on impulse. In early October, she says, Syrian soldiers kidnapped her 25-year-old brother at a checkpoint and held him for ransom.
He managed to escape, and two days later, the family fled to Cairo. They now live in 6th of October City, relying on her father's savings.
"My brother survived so many of the bad bombings in the camps, only to be kidnapped," she recalls.
She considers herself and her family among the lucky ones.
Syrians are generally able to enter the country via plane or a neighboring border, where they can receive a three-month tourist visa and then apply for temporary residency and register with UNHCR.
Palestinian-Syrians, however, must come straight from Syria and, because of the specifics of their travel documents, cannot enter Egypt through a second country.
Sakhr of UNHCR says all males between the ages of 18 and 40 must attain a visa prior to their flight and fly directly from Damascus to Cairo. However, the Egyptian Embassy in Damascus is currently closed, making it nearly impossible to attain a visa prior to travel.
Palestinian-Syrian families, all males under 18 and females of all ages can enter the country without a visa, but generally receive only a two-week to one-month visa, rather than the three months granted to other Syrians.
Once the visa expires, Palestinian-Syrians can apply for residency or try to extend the visa. But as they cannot register with UNHCR or UNRWA, they are left without a means to access basic legal, social and financial services.
In January, the government threatened to deport a Palestinian-Syrian man and his son after they tried to travel to Turkey from Egypt on forged documents. Human Rights Watch and other groups raised objections, arguing that this violated international agreements, given the dangers of returning to Syria. The boy and his father have reportedly since returned to Syria.
Meanwhile, according to refugee advocates, the Muslim Brotherhood-controlled government — caught up in its own internal transitions and unprepared for the spillover from Syria — has for now largely ignored addressing the legal status of the Palestinian-Syrian refugees and its regional ramifications.
In conversations with refugees, many say that, on the one hand, the Egyptian government's negligence has been to their benefit — those here illegally do not face the threat of immediate deportation. But at the same time, the absence of social, legal and financial services is taking an increasingly harsh toll on their financial and psychological health.
Basela Abu Hamed, for example, came from Damascus to Cairo in October. A mother of two and a teacher back in Syria, she has been struggling to find consistent work in 6th of October.
As the violence in Syria continues to worsen, Abu Hamed says she worries about how she will provide for her family's financial and physical well-being without help from humanitarian services. She does not think too much farther into the future.
Because they are not registered, her daughter, 16, cannot enroll in school. She also worries about her daughter because of the harassment on the streets.
After the fighting intensified in December, Abu Hamed's father decided, after much persuasion, that he would leave his bombed-out house. She is awaiting his arrival in Egypt.
In early February, about 35 Palestinian-Syrian refugees gathered in 6th of October to establish a humanitarian network of Palestinians in the diaspora to support those still living in Syria's refugee camps.
Fayed Shihabi, one of the network's organizers, says part of the problem is that Palestinian-Syrians have not tried to unify and advocate for themselves in the absence of another body to do so.
"It is like another Nakba," Shihabi says, comparing the loss of Palestinian land now to the displacement following the 1948 Arab-Israel war, deemed the Nakba, or catastrophe in Arabic.
Milad, 21, heard about the event through the Internet and came that day from Mansoura, where he lives with his family because of the lower cost of living.
"I came [to the event] because working together as Palestinians is better than alone," he says, despite his hesitation about what the network can accomplish.
Back in Damascus, Milad had studied sculpture and participated in a few protests against the regime organized through Facebook.
He had never thought of leaving Syria until the bloodshed started and several friends died. Now in Egypt, he waits, unemployed, to return to Syria.
This piece was originally published in Egypt Independent's weekly print edition.