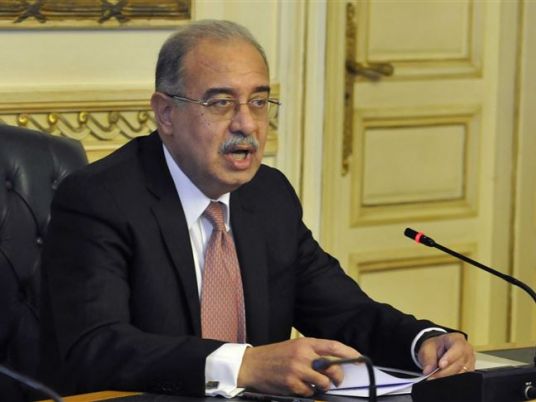 A day after dramatically ditching its currency peg and hiking fuel prices, Egypt's government scrambled to assure people angered by rising prices that it could no longer afford to postpone painful austerity measures.
Flanked by his finance, supply, petroleum, trade, and social solidarity ministers, Prime Minister Sherif Ismail told a news conference there was no going back on reforms that Egypt hopes will help it clinch a $12 billion IMF loan programme.
"Yesterday was an important day in the history of the Egyptian economy, with the moves in foreign currency and petroleum prices," Ismail said. He said further cuts to fuel subsidies were on the way.
"The luxury of delay is not available. It may have been available in previous decades but today we cannot afford such painkillers."
Egypt floated its currency on Thursday, allowing it to fall from its previous peg of 8.8 to the dollar to about 14.65 in a single day, and said it would make a final push to secure the three-year IMF programme within days.
In another step toward securing the IMF cash, the government later announced 30-47 percent increases in fuel prices, adding to the shock on the street as people saw their salaries drop and costs soar in the space of a day.
Long lines formed at petrol stations following the announcement, which left Egyptians with about two hours to fill up their tanks before the new prices kicked in.
Some taxi drivers refused to switch on their meters and demanded fares of 50 pounds for trips that usually cost seven.
"We are being raped, mister," one man shouted in anger as he waited to refuel in Cairo.
At the offices of a startup in downtown Cairo, the small team looked despondent as news of the flotation trickled in.
"My savings have halved overnight," said one employee.
DANGERS OF DELAY
Welcomed as necessary by business and many economists, Egypt's currency reforms carry enormous risks for President Abdel Fattah al-Sisi, who seized power in mid-2013 promising to restore stability after a year of divisive Islamist rule.
Egypt has struggled to attract dollars and revive the economy since the 2011 uprising drove away tourists and foreign investors, key sources of hard currency.
Since taking power, the general-turned-president has struggled to transform tens of billions of dollars of aid from Gulf Arab allies into sustainable growth for a weary populace.
With a budget deficit of 12 percent, Egypt reached a preliminary deal with the International Monetary Fund in August, but has yet to win final approval.
Unlike previous governments, which shied away for decades from politically sensitive measures, Sisi's government had slashed electricity subsidies and imposed a Value Added Tax even before the latest moves.
Among other measures announced on Friday was an end to tariffs on private sector imports of basic commodities, including a 20 percent duty on white sugar, after nationwide sugar shortages.
The government insists it will protect the poor. It said Egypt's subsidy bill would actually rise to 49 billion pounds this fiscal year after the government boosted food subsidies, on which 71 million rely.
Under the new rules, banks will begin trading currency on the interbank system on Sunday. Branches were open on Friday but customers said they were unable to obtain dollars.
One of the objectives of abandoning the currency peg was to end a black market for dollars that had boomed after the dollar-starved central bank imposed capital controls early last year. The pound hit a record low on Sunday of 18 per dollar.
Black market traders said they were offering dollars on Friday for about 16.75-16.95 pounds and buying for 16.25-16.30, but volumes were low as many waited for markets to settle.