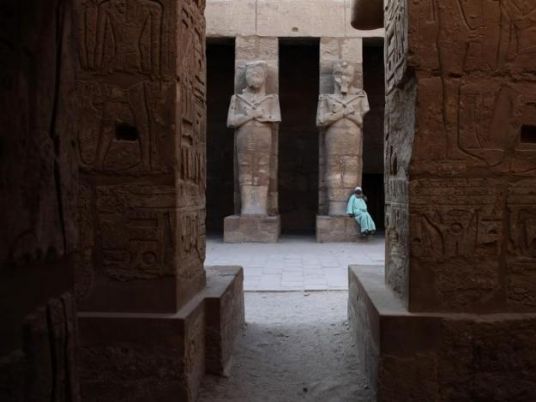 In response to photos circulating on Egypt's social media outlets that have alleged the removal of the archeological tiles of Karnak Temple located inside Luxor, head of Karnak Temple's remnants Mostafa El Seghair denied the claims.
He said in media statements that new modifications were added to the tiles of the temple to put a path for handicapped people to facilitate their access inside the temple.
He further explained that the tiles located inside the temple are not the archeological ones as rumored, noting that new tiles were put in 2008.
A photo for a newly path made on the tiles of the floor of Egypt's historical temple of Karnak stirred massive outrage and controversy among users of social media. Some of them accused the Ministry of Antiquities of deliberate destruction of the historical tiles of the temple.
Meanwhile, the head of Karnak Temple's remnants asserted that the circulated photo was taken while construction of the handicapped path was ongoing and used to generate news on replacing old, historical tiles of the temple with new one.
"All people should be aware that the temple's floor's tiles were replaced with new ones in 2008 and that the area in which the handicapped path was made is not containing any old or historical tiles as rumored," he explained.
He also noted that the handicapped path was made in cooperation with a non-governmental organization called 'Helm' for the sake of upgrading the path to allow handicapped people with wheelchairs to enjoy their visit inside the temple.
The Karnak Temple is one of the most striking and impressive temples built by the rulers of ancient Egypt.
It stands as a historical record of the Egyptian civilization from the 12th Dynasty until the, rule of the Ptolemaic Egypt.