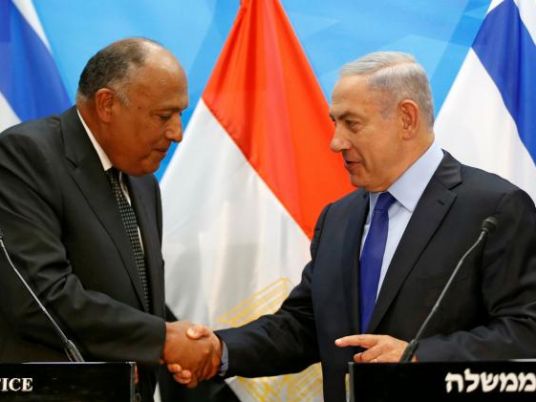 Egypt's Foreign Minister Sameh Shoukry held extensive talks with Israeli Prime Minister Benjamin Netanyahu on Sunday evening, in a visit made to Tel Aviv to discuss matters of regional conflict and to restoke peace talks with Palestine.
The meeting extended for more than two hours and was followed by a lengthy discussion over dinner hosted at the Israeli prime minister's house, Al-Masry Al-Youm reported on Monday.
The two sides discussed efforts to put into action the Israel-Palestinian peace process, building on a vision put forward by Egyptian President Abdel Fattah al-Sisi in a speech on May 17. Echoing Sisi's words, Shoukry said Egypt was willing to provide "all possible forms of support" for lasting peace to be realized, Reuters quoted.
They talked about the aim of reaching a comprehensive, just and definitive solution to the conflict through the establishment of an independent Palestinian state on the 1967 borders with its capital in East Jerusalem, said Al-Masry Al-Youm.
According to Reuters, Shoukry warned against stagnation in the state of relations between Israel and Palestine, saying that the current situation is neither "stable nor sustainable", and does not serve the best interests of either people.
During the talks, the outcome of the
ministerial meeting held June 3 in anticipation of the Paris international peace conference was addressed, in addition to a recently published report compiled by the Middle East peace Quartet, which upheld the notion of a definitive solution to the conflict. Shoukry also shared the results of his visit to Ramallah on July 29, during which he discussed with Palestinian President
Mahmoud Abbas
Egypt's commitment to seeing both sides push to achieve peace.
Shoukry stressed that the starting point for any future negotiations has to be respect for international legitimacy, reported foreign ministry spokesperson Ahmed Abu Zeid in a statement.
Both sides have to believe that engaging seriously in direct negotiations is the only means to achieve peace, he went on, according to Al-Masry Al-Youm. The key factor for success will be an unfaltering commitment to that end from both sides.
According to Reuters, Netanyahu expressed willingness to consider the Arab peace plan, on the condition that alterations are made to some aspects of the it.
Talks between Shoukry and Netanyahu also covered threats to stability in the region and counter-terrorism efforts. The status of Deir Sultan church in Jerusalem — affiliated to the Egyptian Coptic Church — was also brought up.