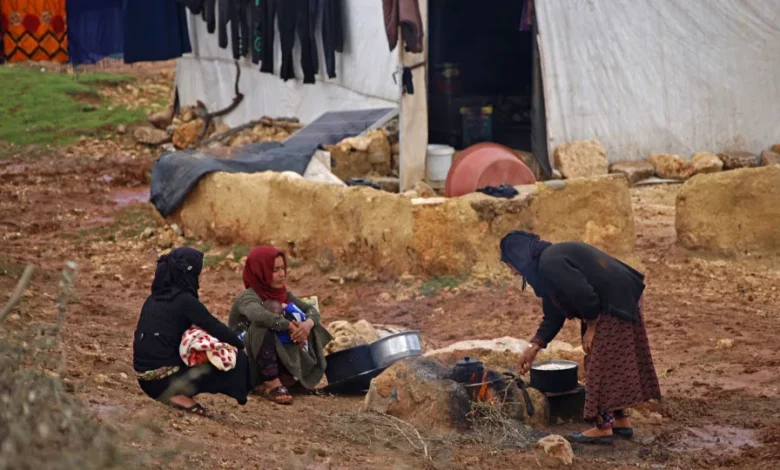 After an 11-year suspension, the Arab League welcomed Syria back into the bloc, giving President Bashar al-Assad a political lifeline despite strong objection from some of its key Western allies.
Advocates of Syria's re-admission to the Arab League argued that it is part of an attempt to find an "Arab solution" to the Syrian crisis after all other efforts had apparently failed. A statement issued by the bloc on Sunday said the move "addresses the humanitarian, security and political crises in Syria, the crisis' repercussions on neighboring countries, especially the burden of refugees, terrorism and drug smuggling."
But some are skeptical of the bloc's ability to find a humane and just solution to the refugee crisis, warning that a rapprochement with the Syrian regime could prompt hosting nations to force the return of Syrian refugees despite potential threats to their lives.
"The normalization of the Assad regime and welcoming him back into the Arab League is a step that can normalize the conversation about pushing refugees back to Syria, which is very risky," said Omar Alshogre, a Sweden-based Syrian refugee and activist who says he was detained and tortured by Assad's regime.
Alshogre, who was smuggled out of Syria in 2015, also expressed disappointment at "the silence of Arab populations," which he says allows their Arab governments to act without accountability.
More than 14 million Syrians fled their homes looking for safety following the civil war between Assad and opposition forces who sought to unseat him. More than 300,000 civilians are estimated to have been killed. Over 6.8 million are internally displaced in Syria, two thirds of whom are women and children, according to the UN refugee agency.
Syrians fled to more than 130 countries, the UN says, predominantly neighboring Turkey, which shelters more than 3.6 million. Others traveled to Lebanon, Jordan, Iraq, Egypt. Many fled to European countries, including Germany and Denmark.
According to a 2022 UNHCR poll of Syrian refugees living in Egypt, Lebanon, Jordan and Iraq, only 1.7% said they would return to Syria in the next 12 months. Around 93% said they would not return, and 5.6% said they did not know.
'Palpable terror'
Charles Lister, a senior fellow at the Middle East Institute in Washington DC, told CNN that the polling data "simply cements the core reasoning for why the refugee crisis remains intractable."
"Regional states can pressure Assad to accept returns all they want, but it's not going to change the palpable terror felt by refugees who simply won't choose to return," he said.
Even before Arab normalization with the Assad regime began, human rights organizations had repeatedly warned that Syrian refugees risked facing forced returns home amid concerns for their safety.
Earlier this year, Denmark – which hosts more than 35,000 Syrian refugees – deemed more areas controlled by the Assad regime to be safe for return.
The announcement was met by condemnation from international human rights organizations, including Human Rights Watch, which said that "Denmark should refrain from playing into the regime's hand."
"While active hostilities may have decreased in recent years, the Syrian government continues to subject citizens to the same abuses that led them to flee in the first place, including arbitrary detention, mistreatment, and torture," Human Rights Watch said just two months ago.
Lister said there is a real danger that "smaller numbers of deeply vulnerable refugees could be targeted for coerced returns."
"We've already seen this in Lebanon and Turkey, and to a limited extent in Jordan too – and that's likely just the start," Lister said, adding that forced refugee returns place victims at "extremely high risk of persecution by the regime, or regime-linked actors."
In neighboring Turkey, President Recep Tayyip Erdogan has tried to put an end to the country's refugee issue, a move that analysts have said was intended to boost his popularity ahead of this week's election.
Earlier this year, Erdogan said that more Syrians will be returning home "as the security environment in northern Syria improves," reported Turkish media, citing Erdogan as saying that some 550,000 refugees have so far returned to Syrian zones "cleared of terrorism and made safe."
Rights watchdogs have condemned Turkey's push to return Syrians home, saying conditions in Syria are not safe.
The Syrian government said in a joint statement with Saudi Arabia last month, that it is working with its partners to "create the necessary conditions for the return of Syrian refugees and displaced persons." It also stressed that it is working towards "ending their suffering, enabling them to return safely to their homeland."
Some Syrians may not, however, have a choice, and pressure for their return is already mounting, especially after Sunday's Arab League decision. "Syrian refugees are already facing pressures to return to Syria, despite it being clearly unsafe for them to do so, by third countries that would prefer they not remain," HA Hellyer, Middle East scholar at the Carnegie Endowment for International Peace, told CNN.
"The further normalization goes, the deeper the pressure will be."
Alshogre worries for himself as well as other Syrian refugees. Some governments, especially those with right-wing leaders, won't hesitate to send Syrians back if they see an opportunity, he said, adding that he and others will refuse to go back.
"We will hide in the woods, we will hide under the ground, wherever," he said. "If I am sent back to Syria, I will be cut into small pieces by the Syrian regime; I won't make it out of the airport in Damascus."