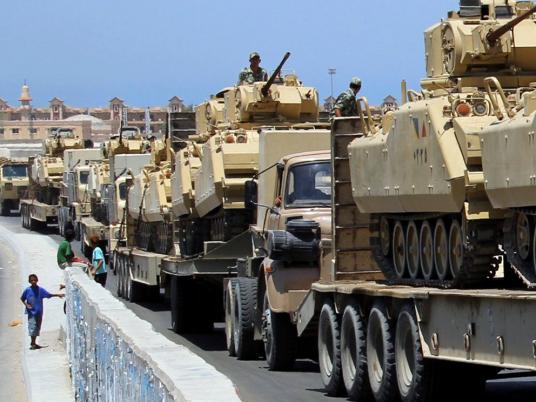 Despite performing an autopsy and taking samples from the bodies for genetic testing, a forensic official ruled out Saturday being able to identify the six assailants who killed 16 soldiers and wounded seven at a Sinai checkpoint Sunday.
The official source told Al-Masry Al-Youm that the lack of high technology devices makes the process impossible, adding that preliminary reports indicate that some bodies had burns on up to 99 percent of their bodies.
The source also said that all six bodies were in military attire, and that the assailants had Arab features and their ages ranged between the twenties and thirties. One body had multiple gunshot wounds caused by automatic fire.
The Forensic Medical Authority is scheduled Monday to conclude the final medical report on the six assailants. Egyptian authorities received their remains from Israel a few days ago.
State-run Al-Ahram newspaper on Tuesday quoted assistant chief coroner Ashraf al-Refai as saying forensics would conduct DNA tests on five bags of scattered body parts Wednesday. "We did not receive intact bodies," Refai said.
The armed forces had said in a statement on Monday that 35 gunmen attacked the military point at 7:00 pm on Sunday, seized an armored vehicle and used it to cross the Egypt-Israel border through the Karm Abu Salem crossing in southern Gaza, where Israeli forces confronted them and destroyed the vehicle.
In related news, President Mohamed Morsy received deputy head of the Supreme Council of the Armed Forces Sami Anan Saturday to discuss the latest developments related to security operations in Sinai.
"The meeting comes to follow the latest developments and the overall operations the armed forces carry out in cooperation with the Interior Ministry and the security bodies in Sinai to enforce the state sovereignty and reinstate security and stability," presidential spokesperson Yasser Ali said Saturday.
After returning from a trip to Rafah, Morsy met with Anan and Field Marshal Hussein Tantawi at the presidential palace Friday for an iftar with border guards.
"Mr. Morsy's second visit to the area comes within the framework of following up the efforts of armed forces and security agencies [that aim] to restore security and control in Sinai," Ali said.
Edited translation from Al-Masry Al-Youm