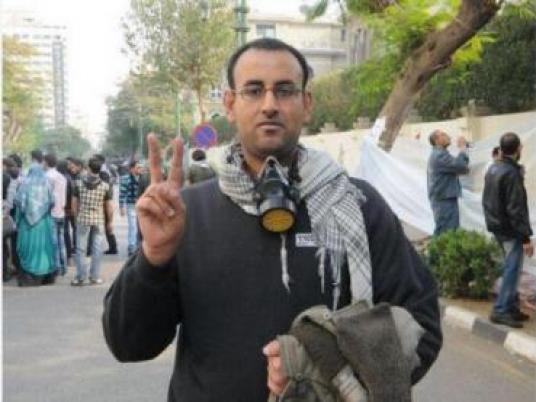 It has been more three months since Al-Fagr journalist Al-Husseini Abu Deif was shot and killed in clashes between the Muslim Brotherhood and opposition protesters near the Presidential Palace on December 2012.
Though court cases have been raised and the family has called for an investigation into his death, no action has been taken. Meanwhile, accusations were traded between the Muslim Brotherhood and opposition leaders over the death of the young journalist.
It wasn't until this week, after the third day of a sit-in at the Press Syndicate, that the forensics report on Abu Deif's death was finally issued. However, the report was vague and inconclusive.
"Today we were shocked with a painful discovery … the forensics report does not coincide with reality," Salem Abu Deif, Al-Husseini's brother said.
The sit-in at the Press Syndicate was organized by Salem, colleagues of Al-Husseini and members of the syndicate, as well as several activists.
The sit-in is in protest of the silence and inaction of the head of the Press Syndicate, Mahmoud al-Wali, who presided over the syndicate with the support of the Muslim Brotherhood in his campaign back in 2011.
The protesters have sprayed the front steps of the Press Syndicate with red paint signifying the blood of Abou Deif, and members of the syndicate would have to walk through this paint as they entered the building.
On Tuesday, a conference was held at the Press Syndicate with members of Abu Deif's family, along with Khaled Ali, former presidential candidate and human rights lawyer, and Mary Daniel, the sister of martyr Mina Daniel, who was killed in October 2011 when the military attacked a mostly Coptic march near the Maspero state television building.
At the conference, speakers called for the investigation of the case of Abu Deif's death, as well as the cases they have raised against Muslim Brotherhood leaders accusing them for inciting the violence that led to Abu Deif's death.
Several other anti-Muslim Brotherhood activists have been killed in in the past few months, including Gaber Salah (Jika), Mohamed Christy and Mohamed al-Gendi, each of them mentioned by name at the press conference.
Salem, along with others, believes that the prosecutor general is stalling the cases and refusing to open an investigation.
Abu Deif was shot in the head with 20 birdshot pellets in the early morning hours of 6 December while filming the clashes around the Presidential Palace, which started on the day before.
When he was shot, Abu Deif was standing with his friend Mahmoud Abdel Kader in the middle of Khalifa Maamoun Street, facing the clashes. "The Muslim Brotherhood have tried to say that we were standing with them, but that is not true," Abdel Kader said.
"I did not see who shot him, but it was one shot, not the usual spurt of shooting they use when they try to disperse us."
"Eyewitnesses confirmed that lasers were pointed at Al-Husseini right before he was shot," said Salem. Many believe that Al-Husseini was targeted because of his anti-Brotherhood stance and because he was taking live footage of the attacks on that night.
When Abu Deif fell to the ground, Abdel Kader and some of the protesters picked him up and carried him almost 100 meters to the nearest operational ambulance.
Mohamed Kamal, a fourth year orthopedic medical student from Al-Azhar University, and Asmaa Hassanein, a field hospital volunteer, loaded him into the ambulance around 1:30 am.
Abu Deif had a skull fracture and was bleeding profusely. "We knew we could not treat this case so we immediately ran with him to Manshiet al-Bakry Hospital," Kamal said. Abu Deif's friend, Abdel Kader, rode with them in the ambulance.
But the hospital refused to admit Abu Deif. The doctor on duty told them, "Why did you bring him here? Leave him to bleed outside."
A conflict between Kamal and the doctor ensued and almost 30 minutes passed while Abu Deif continued to hemorrhage.
While waiting for Abu Deif to be admitted, Hassanein took out her phone to take a picture of Abu Deif. "The hospital security tried to stop me by force, they threatened to call the police. I told them, 'Go ahead and call them, I'm taking this picture.'"
"I had to take the picture so people could know what happened to him," Hassanein said.
When it was clear that the hospital would not admit Abu Deif, Kamal and Hassanein quickly moved to take him to another hospital.
But as they reentered the ambulance it was clear that Abu Deif, who was unconscious, was now having difficulty breathing. "We had to intubate him and use an Ambu bag to help him breath," Kamal said.
Hassanein used the ambulance wireless to ask which hospital they could go to.
The ambulance eventually went to Demerdash Hospital in Abbasseya, but they refused to admit Abu Deif, stating that they had no ICU beds available.
Then they turned to Al-Zahraa University Hospital, also in Abbasseya, reaching there around 2:30 am.
Kamal said, "He was in a coma, he had not uttered one word since entering the ambulance." At this point Abu Deif had been bleeding for over an hour.
"The amount of blood was unbelievable. The ambulance was not used again after Al-Husseini, it was a sea of blood."
Initially Al-Zahraa hospital also refused to admit Abu Deif, but Hassanein and Kamal were adamant that he be admitted, because he was about to die.
Mahmoud Kamel, neurologist at Al-Zahraa Hospital, was on duty that night and admitted Abu Deif.
"He arrived at the hospital in critical condition, we had to get him an ICU bed, but we already had several serious injuries that had come in that day and we needed to make room for him," Kamel said.
"The first thing we did was to send him to get a CT. He had about 20 bird shot pellets in his brain and intracerebral hemorrhage, it was impossible to operate."
Kamal went into the CT with Abu Deif to operate the Ambu bag and hold his head. "I was being scanned with him," Kamal said.
"I refused to let anyone hold his head, after how they dropped his head at Mansheyat Al-Bakry Hospital when they were transferring him."
After the CT, Abu Deif's wound was stitched up by a surgeon, put on life support in the ICU and given blood immediately.
"There was nothing we could do," Kamel said. "The pellets were in his brain and impossible to remove."
On Sunday, 9 December, Abu Deif was moved to Qasr al-Aini hospital.
Abu Deif was declared officially dead on 12 December 2012 and his funeral was held the next day.
Despite the fact the official English website of the Brotherhood's Freedom and Justice Party blamed the opposition for Abu Deif's death, his family, colleagues and friends, as well as many fellow activists are determined to persist until they find justice for Abu Deif's death.
"Al-Husseini was a real journalist, and he was killed while doing his job … documenting live events, in the middle of the action, not from a safe distance or from a desk," Mohamed Khefagy, a journalist with Badeel news site said.
"He is the kind of journalist that we all wish we were."