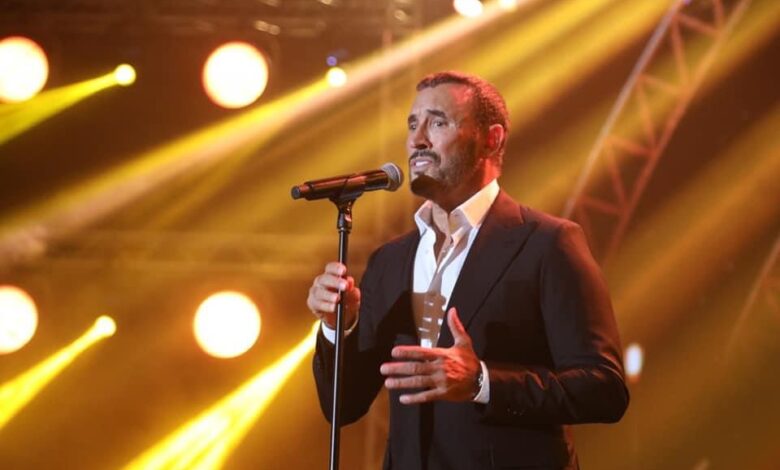 Iraqi star Kadim Al Sahir is set to give a concert for the first time in 13 years in Egypt on Thursday at Fouka Bay at seven pm.
Sahir will sing from his new album, expected to be released in the coming days.
Ticket prices range between LE1500 and LE8000.
The concert is organized by Venture Lifestyle and Kokoro Agency under the auspices of Tatweer Misr.
Beloved in Egypt
About 150,000 of Sahir's fans in Egypt held a referendum to choose a group of songs to be sent to him as requests from his fans during the concert.
"Ashkeek L Meen", "Estaagelt al-Raheel", "Malhamat La Ya Sadeeqy", "Baad al-Hob", "Sayidat Omry", "Hal Naseeta al-Ahd", "Enni Khayartoki", and others were on the list that received the highest votes of fans.
The organizer of the concert, Rabih Mokbel from Venture Lifestyle, confirmed that in concerts he organizes, he relies on presenting everything that is different from what is prevailing, including his recent concert of John Legend in the north coast, which achieved great success, and earlier the concerts of Lebanese singers Wael Kfoury and Elissa.
"I am a fan of Kadim Al Sahir, and I loved his voice since I was young, and negotiations began with him to give a concert in the North Coast during the current summer season a long time ago, but the actual negotiations with Sahir and his business management began eight months ago," Mokbel said.
"Of course, he had his own conditions to hold this concert, which will last for two hours."
"Conditions included that he arrives in Cairo before the concert, enough time, to prepare  for the concert and perform a number of rehearsals, which was the first time that any singer requests this number of rehearsals," he added.
Happy to return
Sahir confirmed he was happy to sing in Egypt after this long time of absence, he continued.
Shady Ezz from Kokoro Agency, who has recently become famous for participating in many major events, including the Cairo International Film Festival, the inauguration ceremony of the Rams Road, the procession of royal mummies, and others, is also participating in organizing Sahir's concert.
Ezz said the agency started preparing for the concert, where the focus on a classical atmosphere.
Seats will be in the form of stands like the cinema so that everyone can follow up and enjoy the concert, Ezz added.
"We try to make the concert a special experience from the time they enter until they leave."
Kadim Al Sahir's concerts always have a special atmosphere and are different from any concert for any other artist, Ezz said.
His singing in Egypt is something that does not happen often, so the matter must be handled carefully to specifically honor this man who who has millions of fans in Egypt," Ezz added.

Sahir's last concerts in Egypt were held during the Spring Festival celebrations in Cairo in 2009, in which he presented a number of his most popular songs, including "Ila Telmiza", "Teheb Teddala", "Hadded Kassar", "Hal Endaki Shak", and "Hob".