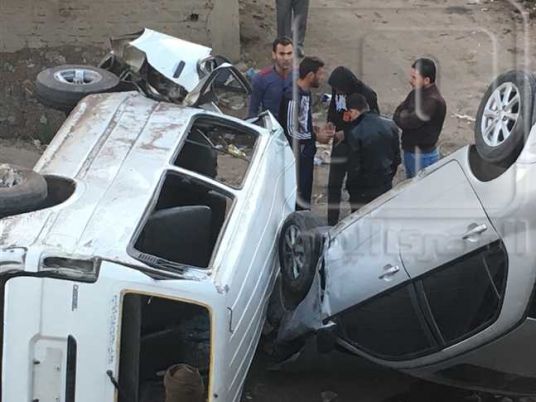 Four people were killed and 11 injured on Saturday when a microbus and taxi crashed on Mehwar road to 6th of October City.
Giza police received a report with the accident and traffic congestion situation on the road, due to the crash. Security forces and ambulances rushed to the scene and victims were transferred to 6th of October hospital.
Traffic department officials cleaned up the wreckage from the accident and opened the road for traffic.
Egypt has one of the world's highest traffic accident rates due to careless driving, poor roads and faulty cars, which leads to the death and injury of thousands every year.
Road accidents are the second highest cause of death in Egypt after heart disease.
5,343 people were killed in road accidents during 2016, with 14,710 accidents taking place last year, according to a report for the Central Agency for Public Mobilization and Statistics (CAPMAS) in June.
The number of deaths due to car accidents reached 5,343, injuries were at 18,646 and 21,089 vehicles were damaged in 2016.
Edited Translation from Al-Masry Al-Youm