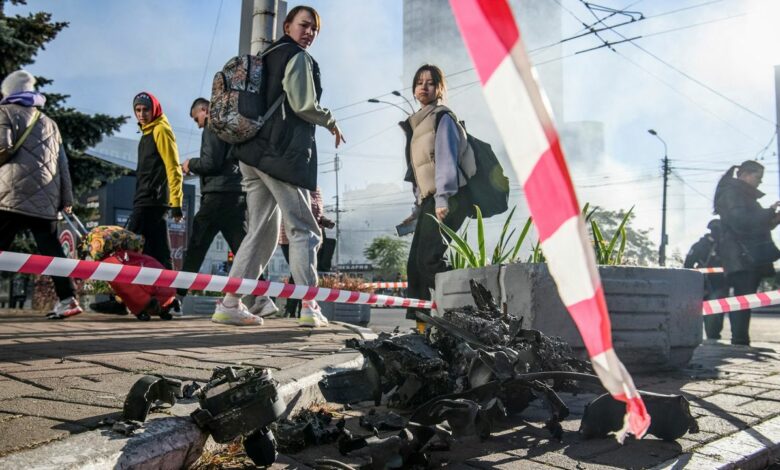 Abu Dhabi, UAE
CNN
 —  The event that dominated the world's news agenda in 2022 was the Ukraine war and its far-reaching repercussions. Its impact was
felt deeply in the Middle East
, with the region's
energy supplies
, strategic
waterways
, and even weapons industries playing a key role in the war.
Last year saw adversaries of the West strengthening ties with Middle Eastern states, sometimes at the West's expense. Gulf Arab states, keen to remain neutral in what they saw as a world order moving towards multipolarity, found themselves in an awkward position with their traditional allies in the West when asked to choose sides in the Ukraine war.
The war also – perhaps inadvertently – pushed Arab oil producers closer to Russia at the OPEC oil cartel, inviting the United States' wrath. And as China's relations with the US frayed, they continued to strengthen with Saudi Arabia.
But even as the Middle East's ties with the West fluctuated, its relevance remained intact and perhaps even grew. Europe increasingly looked to the region for energy security. Qatar, which hosted the 2022 World Cup, is set to become an even more significant gas supplier to Europe in the coming years.
Meanwhile, two Middle Eastern neighbors, Iran and Turkey, supplied opposing sides of the war in Ukraine with drones that had a significant impact on the battlefield.
The war saw Ankara's international prominence grow, whether through its attempts to mediate between the warring parties or its grandstanding at NATO that stalled the alliance's expansion. All that gave a domestic boost to President Recep Tayyip Erdogan as Turkey's economy reeled from an inflation-driven downturn.
Here's what to watch out for in the Middle East in 2023:
Erdogan's grip on power may be tested as Turkey celebrates its centennial
President Erdogan had set an ambitious set of goals for his nation in its centennial. But as the Turkish republic celebrates its hundredth year in 2023, Erdogan may find himself focused instead on trying to hold on to his seat.
The Turkish lira has been plummeting in value for four years and the cost of living has been skyrocketing as a result of Erdogan's unorthodox and widely criticized monetary policies that have shied away from raising interest rates to curb inflation.
Coupled with years of governance fatigue and a new generation of voters who are looking for change, 2023 could potentially mark the decline of Erdogan's grip on power.
Elections, which are expected to take place in early summer, had dominated Turkey's domestic agenda for much of last year. For the first time in years, the opposition – at least for now – seems united around fielding a candidate that could unseat Erdogan. Last year saw the president suffer a major setback in opinion polls, with his approval rate slipping. The presidential system, engineered and implemented by Erdogan himself, requires a 50% plus 1 majority in elections – a tough proposition for the leader as the economy slows.
On the international front, the key NATO ally continues to struggle through its uneasy alliance with the US and Europe. The US' ongoing support for an armed Kurdish group in Syria that Turkey views as a national threat and a cold personal relationship between Erdogan and US President Joe Biden underscore the tense relationship.
Unresolved disputes with Greece over sea borders in the Mediterranean as well as a war of words over a Greek military deployment in small Aegean islands close to Turkey continue to raise tensions with Europe. Whether or not the relationship with Europe can grow beyond cooperation over keeping migrants and refugees confined to Turkey will depend on finding common ground.
When it comes to Ukraine, the Turkish position, regardless of who is victorious in the elections, will remain largely unchanged. The policy of "pro-Ukrainian neutrality," as it is called locally, has paid off with a globally impactful grain deal and has kept the Turkish economy from taking further blows.
By Gul Tuysuz
Israel's lurch to the right
Israel has a new government, and although it's led by a familiar face – Benjamin Netanyahu – it is made up of some of the most extreme right-wing figures to hold ministerial positions in Israeli history. Especially of note are Itamar Ben Gvir, national security minister in charge of Israeli police, and Bezalel Smotrich, finance minister who will have a say in the policies that affect the movement of Palestinians in the occupied West Bank. Both are right-wing settler-lawyers turned politicians who were once considered the far fringe of Israeli politics.
These ministers are setting off alarm bells for many in the international community, including the United States, who are concerned their actions could further deteriorate the security situation on the ground. Ben Gvir and his ilk have openly talked about changing the status quo at Jerusalem's holiest site – known as Temple Mount to Jews and Haram al-Sharif to Muslims – where only Muslims are permitted to pray. But actions in the compound in the past have sparked an uprising and even a war.
Then there's the West Bank, where Smotrich will have a big hand in determining policy. Last year was the deadliest for both Palestinians and Israelis in decades. Security cooperation between the Israeli military and the Palestinian security forces, which has long been seen by Israeli leaders as a key to keeping the West Bank calm, was already strained last year.
Netanyahu has always run his governments as a one-man show, often de facto taking on such roles as that of the foreign minister. In recent interviews, he has repeatedly claimed that he and his Likud party will dictate policy. But allies, like major Jewish figures in the US, are concerned Netanyahu has built something he won't be able to fully control. One of the biggest questions is how the Biden administration will work with the Israeli government – and if it will even interact with the two controversial ministers. So far, the US is taking a wait-and-see approach, with Secretary of State Antony Blinken saying in December that the US will judge the Israeli government "by the policies it pursues rather than individual personalities."
By Hadas Gold
A more cohesive OPEC+
When the OPEC+ cartel of oil-exporting nations including Saudi Arabia and Russia decided in October to cut production by two million barrels a day, it was seen by observers as a political gamble on the part of Riyadh, the group's de facto leader. The larger-than-usual cut was interpreted in the US as an attempt to raise oil prices ahead of midterm elections as the West tried to choke off the Russian oil revenues that were funding the war.
But just weeks after the cuts, oil prices dropped to pre-war levels amid concerns about a looming global recession and a slow Chinese exit from Covid-19 lockdowns. The drop prompted Saudi Energy Minister Prince Abdulaziz bin Salman to reiterate that the cartel's decision was right and not politically driven.
That price drop created confidence in the prince's guidance of the group, said Amena Bakr, Chief OPEC Correspondent at Energy Intelligence, an energy information company. "I expect 2023 to be a year where OPEC+ remains very much united," she said, adding that a globally isolated Russia needs the alliance and is likely to go along with the group's decisions.
An uncertainty that may persist into 2023, however, is how the price caps imposed by Western nations on Russian oil in December may affect the market and in turn the price of global oil.
As a result, Russia has said that it may cut production by up to 700,000 barrels a day. But Energy Intelligence predicts that Russian crude and condensate production could drop by as much as 1.2 million barrels a day, said Bakr. That's over 1% of the global supply. If a gap emerges in the market, the cartel could even consider adding more barrels, she said.
Gulf states are also likely to become important providers of gas to Europe as it weans itself off Russian supplies. Qatar signed its first gas agreement with Germany in 2022 and another one with France, while neighboring UAE also signed gas deals with Germany and Austria. The country has also been touted by European officials as a future exporter of renewables to Europe.
By Abbas Al Lawati
An increasingly isolated Iran
As the international community was consumed by Iran's regional ambitions and the never-ending nuclear negotiation last year, an entire generation of repressed women at home shook the foundations of the Islamic Republic.
After 22-year-old Mahsa Jina Amini died while in the custody of the nation's notorious morality police, the government found itself facing protesters in the streets of almost every major city in one of the strongest challenges to the Islamic Republic since the 1979 revolution that brought it to power.
Those protests, and Iran's support for Russia's invasion of Ukraine, further complicated Tehran's relations with the West, making an elusive nuclear agreement even more difficult to achieve. How the protests play out could dictate the course of the Islamic Republic's domestic, regional and foreign relations in 2023.
The momentum of the protests has slowed, and while the government actively works on a deterrence strategy, it is clear that a barrier of fear has been broken.
But if domestic woes were not enough for the Islamic Republic, it is now also dealing with shifting international geopolitics, including a burgeoning Chinese-Saudi partnership and a Russian ally that is now completely embroiled in a protracted war.
The continuation of crippling Western sanctions on Iran has pushed it further east to China, its biggest trade partner. In 2021, a 25-year strategic "cooperation" pact worth $400 billion of investment deals was signed between the two nations. But as Saudi Arabia and Iran remain diplomatic enemies, and as Saudi Crown Prince Mohammed Bin Salman warms up to Xi amid a Saudi quarrel with Biden over OPEC, the developing China-Saudi relationship, and its effect on the Islamic Republic, is one to watch in 2023.
Regionally, Iran's archenemy, Benjamin Netanyahu, is back in power in Israel, with his attention firmly on Tehran's nuclear program.
With an ailing Supreme Leader, Iran's leadership could be looking to firm up his successor, and as the elite Quds Force mourns the third anniversary of the loss of its leader Qassem Soleimani, Iraq's attempts to break away from Iran's influence also remains a challenge for Tehran.
By Mostafa Salem