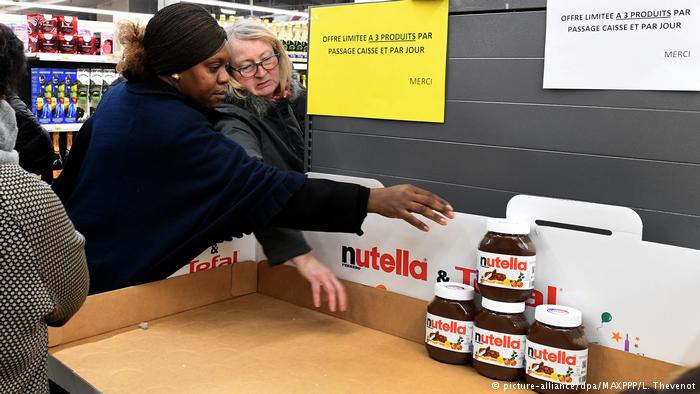 France plans to unveil a bill to tighten rules on supermarket promotions after a Nutella sale at supermarket chain Intermarche sparked brawls in several stores. The sale saw jars of Nutella discounted by 70 percent.
In a bid to prevent a repeat of brawls over the popular chocolate spread, France's Economy Minister, Bruno Le Maire, met with the director of French supermarket chain Intermarche on Tuesday, to encourage the supermarket giant to cease similar promotions.
On Friday Intermarche launched a three-day promotion that reduced the price of a 950-gram jar of Nutella from €4.50 ($5.60) to €1.41, despite an agreement that it and other supermarket chains had signed agreeing not to hold these types of sales.
The French government planned to unveil a bill on Wednesday that would tighten rules on supermarket promotions.
Details of the meeting
Le Maire told French radio station RTL that he reminded Intermarche they had signed the deal regarding promotions and "must keep their word."
Le Maire told the Intermarche director: "We can't have scenes like this every few days in France."
He also said the pushing and shoving seen during the Nutella promotion must not become "normalized."
Intermarche 'regrets consequences'
Ferrero, the Italian company that makes the popular spread said the decision to discount the product was made "unilaterally" by Intermarche and risked causing customers "confusion and disappointment."
Intermarche apologized in a statement, saying "We regret the consequences of this operation, which created confusion and disappointment in the consumers' minds."
How Intermarche has responded: Intermarche apologized to customers, but it has continued with discounts on coffee and diapers.
How France has responded: The French government said it planned to unveil a bill on Wednesday that would tighten rules on supermarket promotions. According to Radio France International the bill would limit price reductions on food to 34 percent, which would have made Intermarche's Nutella promotion illegal. Meanwhile, the DGCCRF consumer agency on Monday announced it was launching an investigation into the discounts and whether Intermarche complied with regulations.