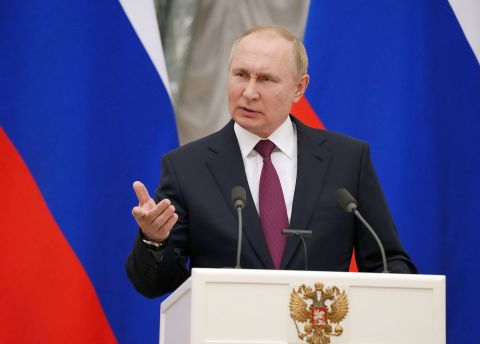 The Turkish Anatolia News Agency quoted Turkish President Recep Tayyip Erdogan as saying that Russian President Vladimir Putin offered, during a call between them, a few days ago, to provide free Russian grain to needy countries!
This must be the strangest offer made by a president in the world, and Putin is most likely making his offer for reasons that are not strictly humanitarian.
Most probably, they are political reasons that hide behind what is considered to be humanitarian!
Earlier, Moscow criticized that the grain that leaves its ports on the Black Sea reach the richer countries in the north, and not the poorer ones down south.
When Putin spoke about the needy countries that he could supply with grain for free, he named Somalia, Djibouti, and Sudan.
He maybe meant other countries that he did not want to mention perhaps!? 
It is no secret that grain exports were halted from the Russian and Ukrainian Black Sea ports with the outbreak of Russia's war in Ukraine on February 24 of this year and its halting threatened countries around the world with starvation.
But with the pressure of the world, a Russian-Ukrainian agreement was signed, under the auspices of the UN and Turkey, to resume exports, and indeed, grain exports from the two countries' ports were resumed last July!
But Russia suspended the work of the agreement, and said that the reason was that its ships carrying grain were subjected to Ukrainian attacks.
This subsequently happened while passing through the Bosphorus Strait connecting the Black and Mediterranean seas!
There were appeals from the capitals of the world calling on Moscow to resume work with the agreement.
At the heart of all this, Erdogan came out to convey Putin's offer of free grain.
It is an offer in which the Russian president plays with the nerves of the world because if it appears to be a charitable and humanitarian offer, the essence of it is undoubtedly political!
Whether the offer was made or not, it is likely that the countries he meant with his free offer will sympathize with him, and will take that in consideration while looking at the war he started against Ukraine and in which he lost a lot, is still losing, and does not know how it will end!
It is an offer that is political in reality, of course, because we have not heard that Russia has become a charitable organization in recent times!