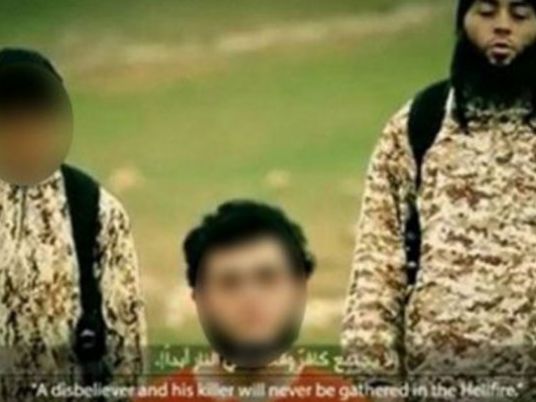 French middle-school students in Toulouse have said they recognize the boy who appears to execute an Arab Israeli man in a video released by the Islamic State group this week, a school official said on Friday.
The schools inspector in the Haute-Garonne district of southern France said some students in the city of Toulouse believe they recognize the boy, who appears to be no more than 12.
"Concerning the formal identification of this person, I cannot tell you anything," Jacques Caillaut told reporters. "Children from Vauquelin Middle School have recognized one of their classmates, but we must remain cautious."
According to Caillaut, students at the secondary school would have known the boy when he was still in primary school.
"There is a child who has not been enrolled at the Vergers [primary] school since 14 March 2014, but I do not have any other details," Caillaut said.
Students saw the footage of the killing on Wednesday and were offered counseling, he said.
It was not clear under what circumstances the children had watched the video.
French investigation
French officials on Thursday launched a formal investigation into the latest
Islamic State group
video, which features a man speaking French.
Sources close to the inquiry say the man is probably Sabri Essid, 31, who has close links to Toulouse gunman
Mohamed Merah
. Merah killed three soldiers, three children and a rabbi in the southern French city in 2012 before being
killed in a shoot-out
with police.
In the video, a youth identifying himself as
Mohammed Said Ismail Musallam
, 19, is shown kneeling in front of the boy. Another man stands at the boy's side.
Dressed in the standard orange jumpsuit worn by prisoners in Islamic State group videos, Musallam recounts how he was recruited by Israeli intelligence – a claim later vehemently denied by his family.
The other man, speaking in French, issues threats against the Jews in France. The boy then walks around in front of Musallam and shoots him in the forehead with a pistol.
The boy, who shouts "Allahu Akbar" ("God is greatest" in Arabic), then shoots Musallam four more times as he lies on the ground.
Sources familiar with the case have said the boy may be Essid's stepson.
Essid, who is known to intelligence services as a key figure in the radical Islamist community in the southern city of Toulouse, is suspected of having left France for Syria last year.