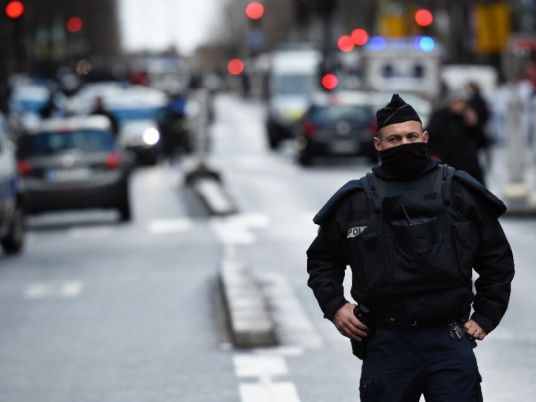 Paris (AFP) – French anti-terror investigators were on Friday seeking to identify a man shot dead while trying to storm a Paris police station brandishing a meat cleaver and wearing a fake suicide vest.
The man was shot dead by officers as he ran towards the entrance of the police station waving the meat cleaver and shouting "Allahu Akbar" ("God is greatest") on Thursday, exactly a year to the day since the massacre of journalists at the Charlie Hebdo newspaper.
Based on his fingerprints, police initially identified him as Sallah Ali, born in 1995 in Casablanca, a homeless man who was arrested for theft in 2013.
But Paris prosecutor Francois Molins said Friday that the identity was "not at all certain" since he was carrying no documents at the time of his arrest.
"This identity (he gave in 2013) is contradicted by a hand-written note that we found in his clothes," Molins told France Inter radio. "He is not known to the intelligence services under this name."
The note, which included a hand-drawn flag of the Islamic State group (IS), gave a different name which Molins did not reveal. It also said his nationality was Tunisian instead of Moroccan.
Molins said the man was carrying a mobile phone with a German SIM card, with French media saying it contained several messages in Arabic, some of which were sent from Germany.
The police station is in Paris' 18th district, an area with a mainly North African population which lies close to the tourist hotspot of Montmartre.
– Unknown to terror police –
Describing the attack, an investigation source said the man pulled the cleaver from his inside coat pocket as he ran towards the officers. He "did not heed the warnings, and police opened fire".
The attacker was also wearing a pouch under his coat with a wire hanging from it, but the device "contained no explosives," the source told AFP.
A remote-controlled robot was also used to inspect the body for explosives.
The attack "illustrates very well the multi-form character of the terrorist threat today in France," said Molins.
"We can find ourselves confronted by very organised attacks with extensive logistics and coordination, and on the other hand by people who work in an isolated manner, either because of psychological instability or simply because they are following the standing order to carry out murders," he said.
IS has called for supporters to carry out random attacks in France and other European countries.
A source close to the investigation said Thursday's attacker had pledged allegiance to IS leader Abu Bakr al-Baghdadi in the documents found on his body.
And he justified the attack as revenge for French bombings in Syria.
Justice Minister Christiane Taubira confirmed the suspect was not on the radar of counter-terrorism police.
"From what is known of this person, there was no link to violent radicalisation whatsoever," said Taubira on Thursday.
– Intelligence sharing 'essential' –
The drama unfolded just moments after President Francois Hollande concluded a sombre speech at police headquarters to mark the anniversary of the attack on the Paris office of satirical weekly Charlie Hebdo on January 7, 2015.
With France still grieving after the massacre of 130 people by jihadists in Paris in November — also claiming vengeance for France's role in Syria — Hollande used his speech to call for greater cooperation between the security services.
"Faced with these adversaries, it is essential that every service — police, gendarmerie, intelligence, military — work in perfect harmony, with the greatest transparency, and that they share all the information at their disposal," he said.
Many of the assailants in both January's rampage and the attacks in November were known to French security services, having either travelled abroad to fight with jihadists or been blocked from doing so.
Since the attack on Charlie Hebdo, nearly 200 people in France had been placed under travel restrictions to prevent them joining up with IS in Syria or Iraq, Hollande said.
The president reiterated his pledge to boost the number of police and armed gendarmes by 5,000.
Rocker Johnny Hallyday will perform at a concert in Paris on Sunday to mark a year since 1.6 million people gathered in the capital in support of freedom of expression following the deaths of Charlie Hebdo's best-known cartoonists.