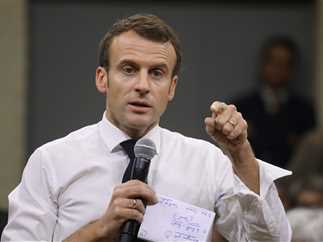 French President Emmanuel Macron will start a three-day official visit to Egypt on Sunday, his first visit since assuming power in France in 2017.
The visit comes at the start of the French-Egyptian Cultural Year 2019 and on the occasion of the 150th anniversary of the inauguration of the Suez Canal.
The Egyptian-French summit is expected to discuss means of boosting bilateral relations in the political, military, economic and cultural fields, anti-terrorism cooperation, and combating illegal immigration, besides discussing regional files such as the Palestinian-Israeli conflict, the Syrian crisis and the situation in Yemen, in addition to the Libyan crisis.
The talks will cover all the regional issues concerned with Egypt in the first place, as well as Europe and France in particular, and will also discuss the bilateral relations between the two countries, which have witnessed great development recently, especially on the economic and military levels.
The French president will be accompanied by a high-level delegation comprising of ministers, senior economic officials and representatives of his country's major energy, health and infrastructure companies. Agreements and memorandums of understanding are to be signed in the areas of health, energy, transport, infrastructure and education.
Discussions will be held between some ministers of the Egyptian Economic Group and the French delegation, and an investment forum will be held and attended by a number of ministers and businessmen of both countries.
French investments in Egypt amount to 4.2 billion euros, with 162 companies employing 33,000 workers, while trade volume is 2.7 billion euros.
Edited translation from Al-Masry Al-Youm