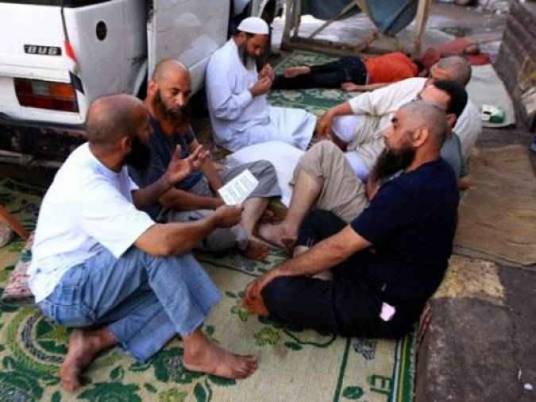 A seriously injured man found by security guards outside a military-owned factory in Helwan shows signs of being tortured by supporters of deposed President Mohamed Morsy, state-run news agency MENA quoted a security source as saying.
The allegation comes after rights group Amnesty International published a report claiming there was "evidence, including testimonies from survivors," that torture is being used at pro-Morsy sit-ins in Giza's al-Nahda Square and Rabea al-Adaweya in Nasr City.
The security source told MENA that investigators in Cairo received a report from Helwan Public Hospital that a 25-year-old man, Yasser Ahmed Abdel Atty, had been brought to the hospital.
The report said Abdel Atty, who works at a workshop in Cairo's Menshiyet Nasser, had sustained bruises on several parts of his body, and his wrists showed signs of being bound.
Abdel Atty told investigators he was on his way to work near Nasr City two days ago when he ran into a pro-Morsy march.
The man said he spoke with demonstrators and voiced his discontent with some of the chants. Protesters then took him by force to Rabea al-Adawiya Square, tied him up inside a tent and began to beat him, he added.
Abdel Atty was blindfolded, bundled into a car and dropped off next to the factory where he was later found, the report said.
Abdel Atty also claimed his mobile phone was stolen.
An Amnesty International report published Friday said testimonies from anti-Morsy protesters indicated they were captured, beaten, given electric shocks or stabbed by Morsy loyalists close to the two rallies.
"Allegations that torture is being carried out by individuals are extremely serious and must be investigated as a matter of urgency," said Hassiba Hadj Sahraoui, Deputy Director for the Middle East and North Africa at Amnesty International.
"The apparent use of torture for reprisal attacks is unacceptable. People should not take the law into their own hands. Political leaders have a responsibility to condemn these criminal acts and call on their supporters to renounce such human rights abuses."
"The Egyptian government must not, however, use these crimes, carried out by few, as a pretext to collectively punish all pro-Morsi supporters or use excessive force to disperse their sit-ins," Sahraoui added.
Tensions are running high after Egypt's Interior Ministry vowed to surround pro-Morsy rallies within 48 hours, Associated Press reported on Friday.
Edited translation from MENA