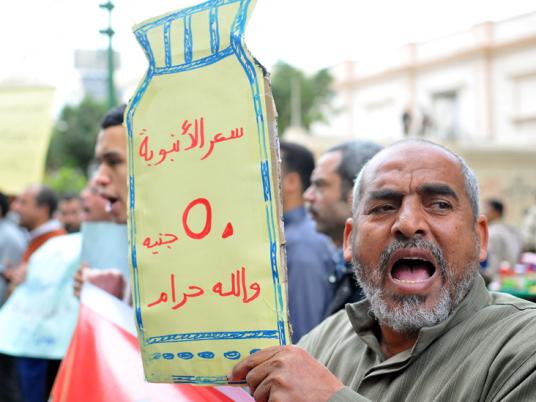 The shortage of petrol, diesel and butane gas cylinders continued in Cairo and other governorates on Sunday as Egypt borrowed money to import fuel from Saudi Arabia, a source told Al-Masry Al-Youm.
In Qena, residents blocked the highway to protest shortages of cylinders, saying they have to buy them for higher prices from the black market.
Minya residents also blocked the highway to protest the shortage of diesel fuel and bakeries had to close down.
In Cairo and Giza, cars queued before gas stations for long hours to buy fuel.
The Egyptian General Petroleum Corporation obtained a loan of US$230 million from the Islamic Development Bank of Saudi Arabia in order to pay for the butane gas shipments supplied from there, which were due as of 2 March on installments ranging between $5 million and $6 million per shipment.
A source speaking on condition of anonymity told Al-Masry Al-Youm that Egypt has imported butane gas from Saudi Arabia for $325 million since January, and still owes Saudi Arabia $95 million, in addition to the funds needed for new shipments.
Translated from Al-Masry Al-Youm