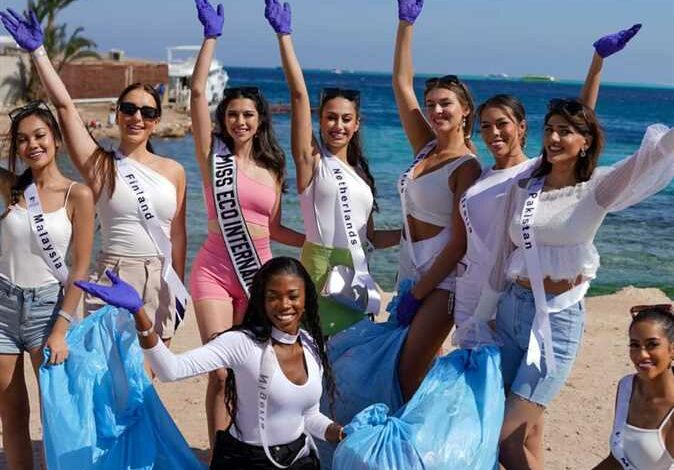 Under the Miss Eco International competition held in the city of Hurghada, in the Red Sea Governorate, 70 contestants from different continents participated in a clean-up campaign for the Red Sea beach.
This ranged from plastic waste, to other waste materials on the Hurghada Corniche. This was witnessed by tourists and foreign media and was beneficial to educate visitors on the importance of preserving biodiversity.
Biodiversity is one of the most important sources of national income, and to protect natural resources, including coral reefs, mangrove forests and marine islands.
The campaign also aims to spread the culture of preserving the marine environment, motivating society to protect its natural resources, keeping beaches and islands clean, consolidating the concept of preserving parks and public places, raising the level of community partnership, and preserving biodiversity, coral reefs, turtles and marine mammals.
Amal Rizk, founder of the Miss Eco Tourism competition, confirmed that the contestants participated in a campaign to clean up the beach from waste as part of the competition's activities, pointing out that the competition included other events, like the competition for the best dress made of recycled materials, and as each contestant presented her own dress.
The competition also included artistic events and fashion shows by the participants, who presented each their national dress, and dresses they manufactured themselves, to help the environment breathe better, she added.
Essam Ali, a tourist expert, stressed that hosting the competition is a direct propaganda for international competition tourism, with the aim of delivering a message to the world that Egypt is safe, which aims to open new tourism markets.
The organizing committee is preparing a tourism program for the participants, by organizing tours to the Giftun Island Reserve, a diving trip, sports, entertainment and cultural competitions, a talent show and a visit to the largest water sports city in Hurghada.
On the sidelines of the competition, cruises, safari, fashion shows and shows for environmental products, are organized.
Beauty queens have been keen to take souvenir photos, during their visit to the beaches of Hurghada, and to publish the photos on their social media platforms.