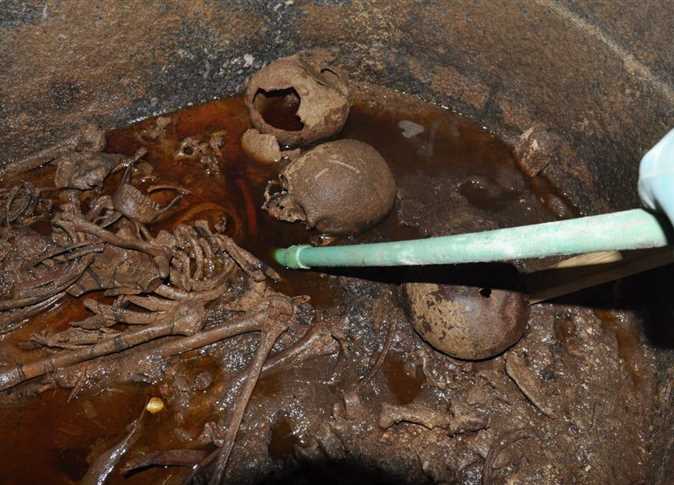 The Ministry of Antiquities announced on Sunday that archaeological studies on the skeletons from the Alexandria sarcophagus discovered in July have identified the genders, ages and height of the remains through anthropological screening.
Chief of the Central Administration of Antiquities in Lower Egypt, Nadia Khadr said that "The first skeleton was a woman aged between 20 and 25 years-old, and was between 160 and 164 cm. The second was a man aged between 30 and 35 years-old, measuring between 160 and 165.5 cm."
"The third skeleton was a man aged between 40 and 44 years-old. He had a strong body, with measurements of 179 and 184.5 cm," she said.
Mostafa Wazeri, Secretary-General of the Supreme Council of Antiquities, added that the research team also found gold chips from badges, which are currently are being studied.
Chief of the Egyptian Antiquities Sector Ayman Ashmawy said that "Team of specialists extracted the remains from the flooded coffin and started to remove the dust and clay from the bones, gradually drying and then cleaning them. Specialists also documented, recorded, and took photos of the remains."
Ashmawy added that the red water in the tomb was likely caused by mixture of the well water mixing with the decomposed remains.
Workers accidentally unearthed the approximately 2,000-year-old black granite sealed sarcophagus in July during construction of an apartment building in Alexandria.
Hopes ran high that the mysterious tomb may have belonged to famed Macedonian king Alexander the Great, one of the world's greatest conquerors.
Archaeologists quickly proved otherwise upon opening the black granite sarcophagus, where they found three skeletons and a red liquid speculated to be sewage water that leaked into the coffin and caused the mummies to decompose, according to an Egyptian Ministry of Antiquities report.
Edited translation from Al-Masry Al-Youm