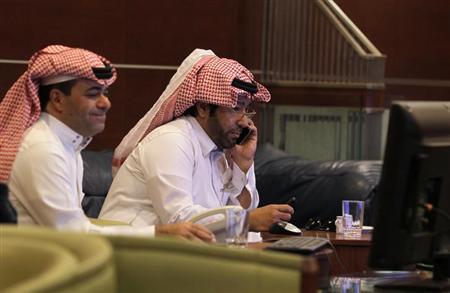 Trading volumes were muted for many financial market assets on Monday with investors refraining from making big bets because of geopolitical tensions in the Middle East and the Korean peninsula.
It is also a holiday-shortened week in much of the West.
The dollar inched towards three-week highs drawing support from US rate hike expectations while global stocks, reaching the point where some see them as expensive, were stuck in neutral ahead of US earnings season this week.
European stocks were little changed though shares of mining major BHP Billiton jumped more than 5 percent after activist hedge fund Elliot Management urged the company to pursue a spin-off of its US business.
The increased geopolitical risks continued to spur investors to move into safer assets such as government debt.
Top aides to US President Donald Trump differed on Sunday on where US policy on Syria was headed after last week's attack on a Syrian air base, while US Secretary of State Rex Tillerson warned the strikes were a warning to other nations, including North Korea.
"The risks of a conflict have certainly grown and that should keep the dollar supported against most Asian currencies with hawkish comments from the US central bank also helping," said Gao Qi, an foreign exchange strategist at Scotiabank in Singapore.
The euro edged lower and France's borrowing costs hit their highest level over Germany in six weeks as investors fretted over the rise of far-left candidate Jean Luc Melenchon in polls before this month's presidential vote.
Melenchon's emergence over the past week has raised the possibility that he will square off against far-right leader Marine Le Pen in the decisive second round in May, making the final result far more unpredictable.
France's bond yield spread over Germany hit 70 basis points in early trading on Monday, its highest since February 27.
"The market is focusing a bit too much on the extreme possibilities, but I guess with the elections coming up so soon some nerves are inevitable," said DZ Bank strategist Christian Lenk. "But at the end of the day I think (the second round) will be Macron versus Le Pen."
Global stocks have traded flat over the past month as investors after the 10 percent rise since last November's lows has taken valuations above long-term averages. The MSCI AC World index trades at 16 times forward earnings, compared to a 15-year average of about 14 times.
In commodities, oil prices rose, supported by strong demand and uncertainty over the conflict in Syria, although another run-up in US drilling activity kept a lid on gains.
Brent crude futures, the international benchmark for oil prices, were up 0.7 percent at $55.63 per barrel.
US West Texas Intermediate (WTI) crude futures were up 0.6 percent at $52.55 a barrel.
Spot gold was little changed.
Report by Vikram Subhedar (London); Additional reporting by Abhinav Ramnarayan Editing by Jeremy Gaunt; Reuters