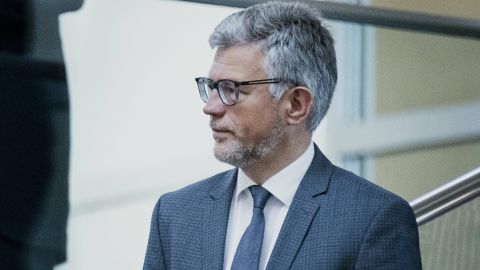 The vice-president of the German parliament, or Bundestag, has arrived in Kyiv, she said on Twitter.
"Kyiv. I arrived here today by night train," Katrin Goering-Eckardt said. "Ukrainians are defending their country & our common freedom. I admire their courage. In the next few days, I would like to get a picture of the reconstruction, the humanitarian situation and the difficult everyday life on the ground."
Goering-Eckardt's trip comes after Germany confirmed last week it will send a long-demanded contingent of Leopard 2 tanks to Ukraine in a major sign of support for Kyiv.
The announcement made for a landmark moment that followed weeks of intense pressure on Berlin from some of its NATO allies.
Goering-Eckardt expressed her support for the decision, writing on Twitter on January 24: "The #Leopard's freed!"
However, on Germany's streets, reactions were mixed, with some citizens telling CNN that they were concerned about how the war may now escalate.