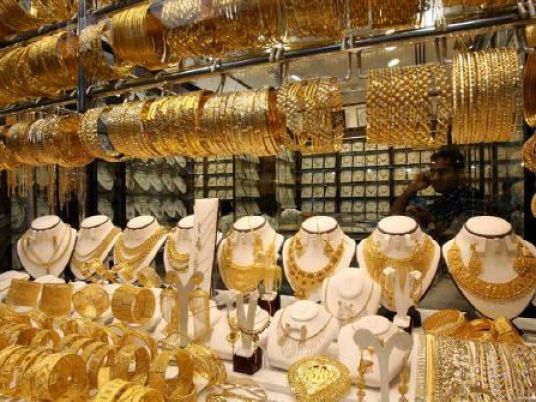 The price of gold made a record jump in the Egyptian market on Monday by about LE 4, a result of global fears over the economic fallout of the coronavirus epidemic, prompting investors to take refuge in safe-havens like gold.
The price of 21-karat gold (the most popular in the local market) stood at LE 729 on Monday, compared to LE 725 on Sunday and LE 697 in February. Meanwhile, 18k gold increased to LE 628 and 24k gold to LE 827, up from LE 797 in mid-February.
Secretary of the Gold Division at the Federation of Egyptian Chambers of Commerce (FEDCOC) Nady Naguib said that the emergence of the novel coronavirus, or COVID-19, has negatively impacted economies of different countries all over the world.
He added that the price of an ounce of gold reached $US 1,700 in the early morning hours of Monday.
Amir Rizk, the owner of a gold shop in Cairo, said that the price of an ounce of gold is now the highest it has been since September 11. Back then, soaring prices were uncommon in the local market as the US dollar exchange rate was low.
Also on Monday, stocks around the world plunged due to fears over the economic impact of the virus, which has killed over 3,800 people and infected upwards of 110,000, leading to event cancellations and travel restrictions around the globe. Oil prices also took a hit over virus fears, especially after OPEC failed to come to an agreement with Russia to cut output on Friday, a move that could have contained falling prices.
Saudi state oil giant Saudi Aramco dropped by 10% on Riyadh's Tadawul stock exchange on Monday, forcing a halt to Aramco's trading. The benchmark U.S. crude price fell over 20%, the biggest daily drop since the 1991 Gulf War.
Meanwhile, the main index of the Egyptian Stock Exchange, EGX30, fell by about seven percent to 11,000 points, the lowest level in nearly three years.
Edited translation from Al-Masry Al-Youm