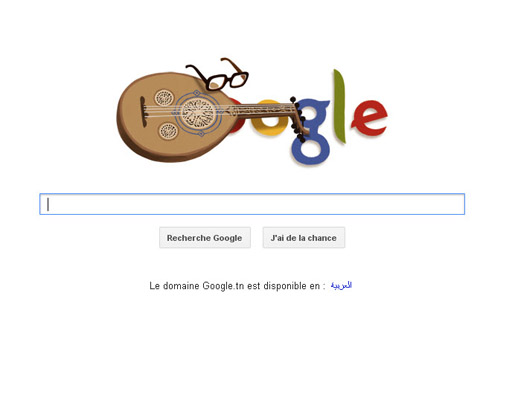 Google on Tuesday celebrated the 110th birthday of notable Egyptian singer and composer Mohamed Abdel Wahab, often called the "musician of all generations."
The doodle portrays Abdel Wahab by depicting his famous glasses and the oud, a musical instrument through which he composed most of his enduring songs. In a statement, Google described Abdel Wahab as "one of the most famous singers and composers of the 20th century."
Google doodles are redesigns of the popular search engine's home page logo, which often pay tribute to certain public figures, recognize holidays or commemorate important events. This is not the first time Google has celebrated an Egyptian icon.
In 2011, the site designed doodles for the first post-revolution parliamentary elections. It also celebrated the birthdays of Egyptian actor Ismail Yassin, singer Abdel Halim Hafez and composer Sayyed Darwish.
In 2010, it produced doodles celebrating the birthdays of singer Om Kalthoum, poet Ahmed Shawqy and Nobel Laureate Naguib Mahfouz.
Abdel Wahab was born on 13 March 1902 in Bergwan Alley, a working-class Cairo neighborhood. His family hailed from Abu Kebeer village in Sharqiya Governorate. He was then admitted to the Seedi al-Shaarnay Mosque's kuttab, a basic school of Islamic education attached to the mosque. There he memorized several parts of the Quran.
In 1917, he started his musical career as a singer in the Fawzy al-Gazayerly Band, while starting to study oud at the Arab Music Institute.
His work in radio started in 1934 and in cinema in 1933. He composed and sang many of the poems written by famous Egyptian poet Shawqy.
Abdel Wahab composed more than nine songs for the renowned singer Om Kalthoum. He also composed songs for other Egyptians, as well as other Arab singers like Leila Mourad, Abdel Halim Hafez, Nagat, Fayza Ahmed, Warda, Fayrouz, Talal Maddah and Asmahan.
He composed "Ya Beladi" (also known as "Libya, Libya, Libya"), the Libyan national anthem. The song was used by the Kingdom of Libya from 1951 to 1969 and again by the post-Qadhafi transitional government in 2011.
Abdel Wahab died on 4 May 1991. A military funeral for him took place the following day. His personal belongings are on show in the Music Institute of Cairo, and he has been recognized with a statue in the neighborhood in which he grew up.