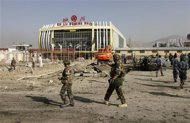 Unidentified gunmen in southern
Afghanistan
stopped two buses travelling to the capital, Kabul, and seized around 30 people belonging to the ethnic Hazara minority, a bus company official said on Tuesday.
Hazaras, who largely follow the Shia sect of Islam, were persecuted by the Taliban during the 1990s, when the militant Sunni Islamists ruled most of Afghanistan.
Outbreaks of sectarian violence have been rare since the Taliban were ousted by an American-led invasion in 2001, but many Hazaras continue to complain of discrimination and harassment by majority Sunni Muslim groups.
The passengers were forced to leave the buses late on Monday night, after producing documents that showed they belonged to the Shia minority group.
"Our drivers stopped for the gunmen because they were in army uniform. They asked for documents," Nasir Ahmad, one of the bus company's managers, said in the southern city of Kandahar.
"According to other passengers, most of the people abducted were Hazaras."
The Taliban, now leading an increasingly violent insurgency against the government and its foreign backers, did not immediately claim responsibility but said they were investigating.
The fate of the missing passengers was unknown, said Ghulum Jilani Sakhi, the deputy police chief of Zabul province, where Monday's abduction took place.
"We are investigating where these people have been taken," he added.
In a similar incident last July, Taliban militants stopped two minibuses in the central province of Ghor and shot dead 14 passengers identified as belonging to the Hazara group.