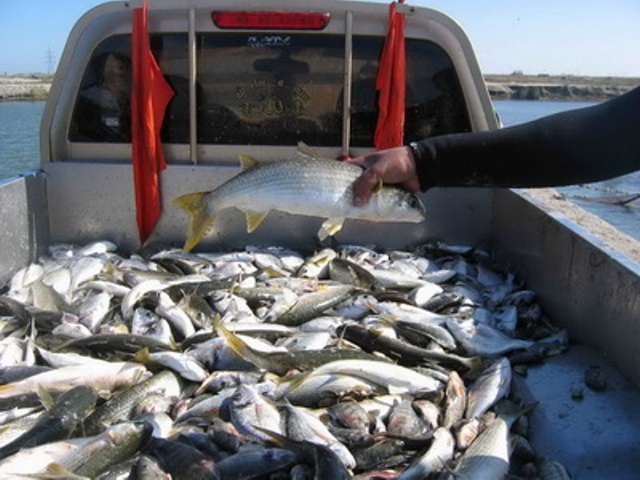 Hamas complained to Egypt on Friday after Israel suspended part of a Cairo-brokered truce agreement by halving Palestinian access to fishing waters in response to a rocket attack from the Gaza Strip.
Thursday's salvo at the Israeli border town of Sderot, which caused no casualties, coincided with a visit to Israel and the Israeli-occupied West Bank by US President Barack Obama.
It was claimed by a small Al-Qaeda-linked faction that has challenged the Islamist Hamas group's rule in the Gaza Strip.
Israel, which holds Hamas responsible for any violence emanating from the enclave, retaliated by shutting the Kerem Shalom commercial crossing on the Gaza border and by enforcing a newly restricted 5 km wide fishing zone.
The zone had been extended to 11 km as part of an Egyptian-brokered ceasefire that ended an eight-day conflict between Israel and Hamas in November, in which 166 Palestinians and six Israelis were killed.
"We have informed Cairo of this violation and we are waiting to hear a clear position from Egyptian mediators on this," Hamas spokesman Sami Abu Zuhri said, giving no indication that Hamas wanted to abandon the ceasefire arrangement.
An Egyptian official confirmed that the Hamas complaint had been received, saying Israel had complained separately about the rocket attack — the second of its kind since November.
The official said Cairo would contact both sides to "restore their commitment to the truce." Israel said on Thursday its new Gaza restrictions would be in place until further notice.
Magles Shoura al-Mujahedeen, a hardline Islamist Salafi faction with a small presence in Gaza and the neighboring Egyptian Sinai, claimed responsibility for the salvo on Sderot.
In an online statement, the group said it had struck during Obama's visit to show up Israeli air defenses — a likely reference to Israel's US-backed Iron Dome rocket shield.
Magles Shoura al-Muhajedeen and Hamas are both hostile to Israel. But the Salafis accuse Hamas of diluting Islamist doctrine by seeking accommodation with secular Palestinians.
Hamas has at times cracked down on the Salafis, seeing them as a threat to the stability of the impoverished Gaza Strip.
On Thursday the Hamas administration's spokesman Taher al-Nono questioned whether rockets had been fired from Gaza and reaffirmed commitment to the "mutual calm agreement brokered by Cairo."
Reducing Gaza's fishing waters spelled losses for some 3,000 Palestinians whose livelihood depends on the sea.
"There is nothing to catch within three miles from shore," said fisherman Talal Shweikh, 62. "All the fish that you see in the market today came from Egypt."