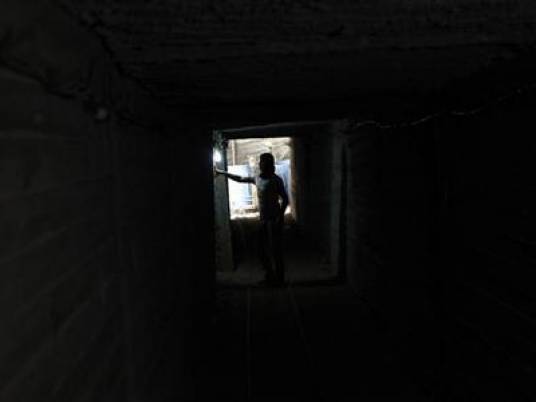 A senior Hamas delegation met with Egypt's spy chief in Cairo to discuss the security situation along the border with the Gaza Strip.
A statement issued by the Palestinian movement that controls Gaza said Friday that the discussions concluded on Thursday, but more visits to Cairo are planned ahead.
Egyptian security observers believe that the underground tunnels between Gaza and Sinai Peninsula are the main route that terrorists and weapons enter the peninsula, thus destabilizing North Sinai.
Egypt security authorities have destroyed many of these tunnels since the rule of former president Hosni Mubarak. But efforts intensified during Operation Eagle which started in 2011 to counter terrorism in northern Sinai.
For Gazans though, the tunnel network has been a lifeline for some 1.7 million Palestinians living in the strip, especially since the severe blockade that Israel imposed on Gaza in 2007.
Gaza Prime Minister Ismail Haniyeh was heading the Palestinian side in the talks, which brought together several Egyptian officials, among them the Head of the General Intelligence Service, Khaled Fawzy.
A statement from Hamas said Friday that the talks in Cairo addressed the security situation on the border between Gaza and Egypt. The delegation stressed Hamas' constant policies in its relations with Egypt, especially non-interference in internal affairs, and keenness on Egyptian and the Arab national security.
Ali Baraka, member of the political bureau of Hamas, said in a statement to Al-Masry Al-Youm that Hamas will do to its best to preserve Egyptian national security.
He added that some of the Egyptian demands are being implemented on the ground, such as increasing the number of Hamas security forces along the border to prevent any attacks against Egypt from the 12-kilometer-long Sinai border with the Gaza Strip.
Edited translation from Al-Masry Al-Youm